I write about my father a lot in this blog. Last year at this time, I wrote a long tribute to him commemorating what would have been his one hundred and second birthday. I write about my mother as well (her birthday is in February). We lost both of them way too early, and I miss them both more than I can put into words.
I won't repeat last year's tribute. If you're interested, you can find it here. But I did want to share a memory of my dad that I find myself relating to with particular resonance this year.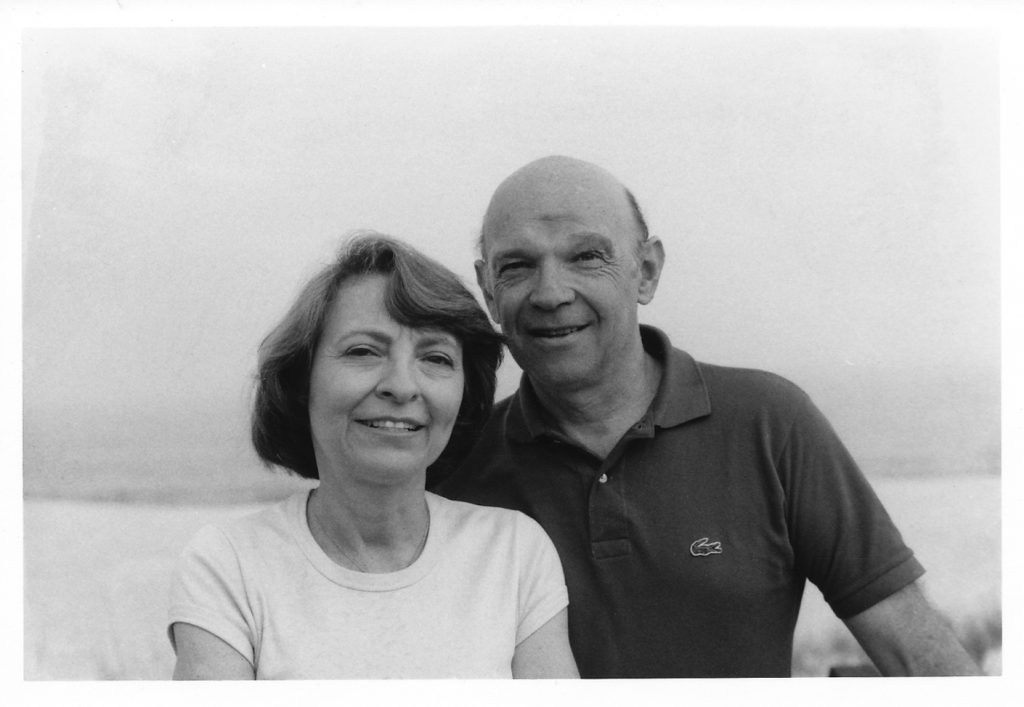 I grew up the youngest of four children in a privileged family, and all of us enjoyed giving as much as we did receiving. Our Christmas mornings tended to be affairs of largess; we all had enormous gift piles. Record albums, clothes, books, the occasional piece of jewelry — as I say, there was always plenty under our tree. The Christmas morning I'm remembering came when I was in my early-to-mid twenties, and was home visiting either from Providence, where I lived after completing college, or California, where I attended graduate school.
All of us were in our usual frenzy of tearing wrapping paper and oohing and aahing over one another's gifts. Dad sat watching us all, not unwrapping anything himself, but smiling contentedly. One of us said something to him — probably prompting him to open one of his as-yet-unopened gifts, and he waved off the comment.
"This is my present," he said. "Watching all of you."
I know: It sounds like a line from a Hallmark holiday movie. Thing is, he meant it. There was nothing he enjoyed more than watching and listening as his kids and his beloved wife talked and laughed.
I remember another time, the last summer we had with him: My mother had died the previous fall, and not long after Dad was diagnosed with leukemia. But during the summer, we rented a house in New England that was huge enough to accommodate all of us — my dad; my brother Bill and his partner, Sandy; my sister, Liz, her husband, and their two young children; my brother Jim, his wife, Karen, and their son (their daughter would come along a year later); and Nancy, Alex, and me (Erin was born three years later).
We had a great week, but there was one night in particular when we put the kids to bed, and dad retired early, leaving my siblings and me and our partners to hang out on our own. We didn't realize how much sound traveled in the house, but we learned the next morning that Dad had heard us the whole time. He wasn't at all angry, and he didn't mind being kept up.
"Listening to you all laughing was better than sleep."
By that time, of course, I was a father, and was starting to understand what he meant. I didn't appreciate it fully, though, until after Erin was born.
I have been fortunate to hear live performances by some of the most phenomenal musicians in the world — jazz and classical, blues and bluegrass, rock and country. I have heard remarkable birdsong throughout North America, in New Zealand and Australia, in Costa Rica, in several parts of Europe. I have heard coyotes call in the desert, and Screech Owls trilling on a rainy night in Oregon, and Whip Poor Wills singing on summer nights in Tennessee. There is no sound I have ever heard that compares to the music of my daughters laughing together.
Nancy, the girls, and I have our own Christmases now, of course. There is always plenty under the tree, although this year Nancy and I don't have much for each other. That's all right. I won't miss the presents. Because I'll be able to sit, as my father did all those years ago, and watch Alex and Erin enjoying their holiday, laughing with each other and with us. That will be my present.
That, and my memories of my dad.
Happy birthday, Pop. Love you.