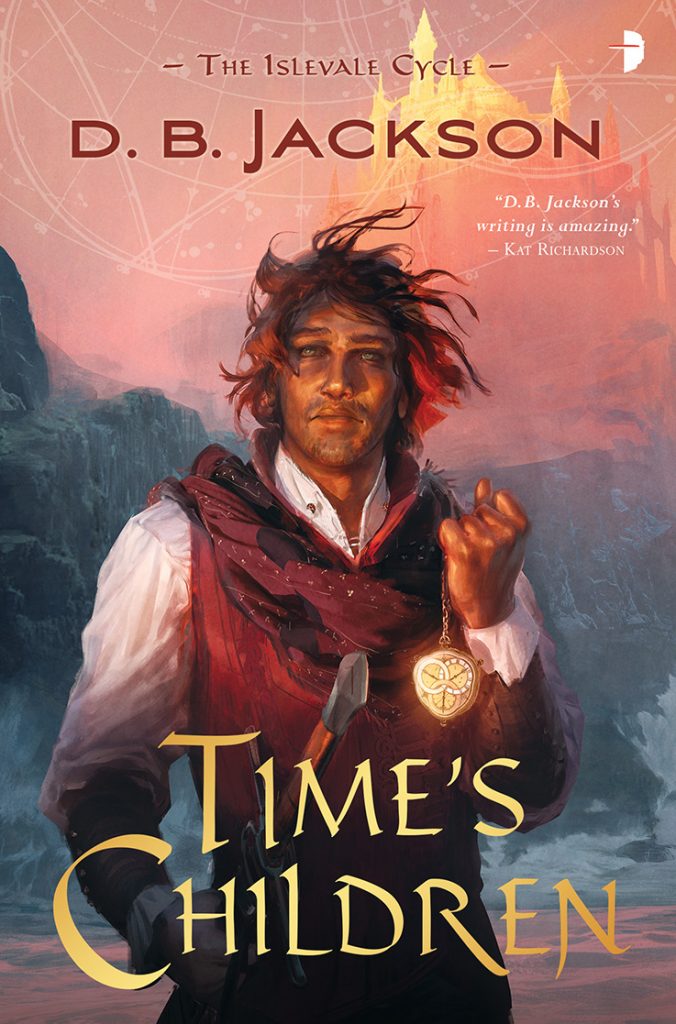 Fifteen-year-old Tobias Doljan, a Windhome-trained Walker capable of traveling through time, is called to Daerjen to serve in the sovereign's court. It is the posting of his dreams, a chance to serve in one of the great courts of Islevale. Upon arriving in the royal city, though, he learns that the sovereign, seeking to prevent a devastating war, wishes to send him back fourteen years.
The journey will age Tobias, costing him years off his life. Still he makes this sacrifice to keep Daerjen's enemies from conquering all of Islevale. The night he Walks back, however, the sovereign is assassinated, his court destroyed. The only survivors: Tobias, now to outward appearances a grown man, and the sovereign's infant daughter, Sofya.
Pursued by assassins, hunted by an army, trapped in a misfuture he has helped create, Tobias must see the sovereign princess to safety. Joined by Mara, a friend and love who follows him back in time, and aided by time demons, seers, and unlikely allies, Tobias seeks a new future for himself, Sofya, and all of Islevale. But the sovereign's killer now has Tobias and Sofya in his sights, and both of them are running out of time.
Named the Best Fantasy Novel of 2018 by Reviews and Robots.
"This novel wields dueling timelines like knives, keeping readers spellbound while Tobias tries to keep the world from becoming unhinged. Jackson creates two fascinating worlds that coalesce seamlessly into an un-put-downable fantasy narrative and seem likely to lead to an exciting sequel." [Starred Review] – Publisher's Weekly
"What is fascinating is not so much that Jackson tells a story of two timelines but how skillfully it is executed…The magic, how time travel is constructed and the whole world itself is practically a master class world building.  Jackson clearly has a high level of detail in the world, but what makes it feel so alive are the characters, and how they convey the construction of the magic and mechanics of time travel…To say that I enjoyed this novel is an understatement. I've read a few books by D.B Jackson/David B. Coe and liked them quite a bit. Time Travel stories can be tricky, but Jackson took one of the genre tropes (some would say an overused trope at that) and breathed fresh life into it. Time's Children is both an epic and personal fantasy novel that is a wonderful series starter and introduction to a very original fantasy milieu. I'm slotting this on my best of the year list…" – SFFWorld
"Time's Children is a tour-de-force, setting a fascinating tale of magic and intrigue amidst a world filled with dark corners and creatures who are not to be trusted. I loved every part of this book, and applaud the author on creating a compelling story filled with brilliantly rendered scenes, settings and details that made the world come alive. Prepare to be swept away by the tides of this masterful story." [Chosen as #1 read of the month]  – Reviews and Robots
"Jackson has a deft touch with characterisation. The two young protagonists are very relatable and recognisably young adults. Even their main antagonist, the assassin, feels like a well-rounded professional…Time's Children is a compelling novel, enjoyable and fun. I'll be looking out for the sequel." – Locus Magazine
"Jackson excels at fully realized worldbuilding, including nature, culture, history, religion, politics — the grand scale and everyday life….This is an epic fantasy with magic, sword fighting, political intrigue, demons, assassins, and budding romance. Plus time travel! And well done time travel at that. I'm a sucker for time travel stories, but I'm often disappointed by their simplistic delivery or avoidance of temporal paradox — that's not the case here at all. Jackson created an entirely believable world of Travelers and other magical beings. I was fascinated by the way the Travelers work, and I enjoyed the different characters' POV as they carried me through the story. I look forward to Time's Demon — where I hope we will learn more about Droë, as well as the continued adventures of Tobias, Mara, and Sofya." – Black Gate Magazine
"Time's Children is D.B. Jackson's best work to date. Intricate plotting, innovative world building, and characters who grab your heart and refuse to let go. I can't wait for the sequel!" – Faith Hunter, New York Times Bestselling author of the Jane Yellowrock and Soulwood series
"A fast-paced tale whose fascinating magic system twists and turns the story in unexpected directions. Now I'm waiting for book two!" – Kate Elliott, author of Cold Magic and Black Wolves
"The plot is fairly fast-paced and I read through it in like a day or so. It's also pretty fun and rather well-written. For me, the best part of the book is really the interesting world and the premise. The ending leaves me with some questions for what happens next and I'm really excited to see that." 4 stars out of 5 – The Bookworm Daydreamer
"The writing and world building in this novel is fantastic….I'm really looking forward to the next in the series, and while it didn't end on a cliffhanger, there was enough tension that I would have just kept on reading!" 4 1/2 stars out of 5 – Lizbie's Nerdy World
"Time's Children was an excellent read, intelligent, original and thorough…the reading is always easy and satisfying, quite enjoyable." – Hélène Louise
"I can easily recommend this to fans of either Epic Fantasy or Time Travel SF. It combines the best of both worlds and with all the assassins, intrigue, and even love going on here, the novel entertains very roundly indeed." (4 stars out of 5) – Bradley Horner's Book Reviews
"With a unique time travel conceit, an breakneck adventure plot spanning three timelines, and a fascinating world that only grows as the story unfurls, Time's Children is a satisfying start to a tremendously promising series, and leaves off on an an ending guaranteed to hook you into the next book (Time's Demon, arriving in May 2019). If you love books that mix tropes of sci-fi and fantasy with abandon, make time for this one." – B&N Sci Fi & Fantasy Blog
"Both a portal and flintlock fantasy, Time's Children creates an intricate world and an emotionally gripping story…D.B. Jackson is a natural storyteller who has devoted years to honing his craft. The easy readability of the book along with the gut-wrenching experiences of the characters create a riveting tale. Once begun, I found it extremely difficult to put down again and the story has been on my mind again and again since finishing….Highly recommended for lovers of dark fantasy, portal fantasy, and grim flintlock." – Grimmedian
"I enjoyed it, you're gonna enjoy it… Give me more, I am so stoked for this book!"
– Litcast of Doom
"Fantasy infused with clever time-travel, a satisfactory opener to what can turn out to be roller coaster ride." – Smorgasbord Fantasia
"Time's Children was one heck of an entertaining read… As always, Jackson's writing is lovely; attaining a classic fantasy feel while painting a vividly colorful world full of deep and insightful characters…All in all, Time's Children is an excellent read, providing a new and unique premise then proceeding to execute it well." 4.5 stars out of 5 – A Refuge From Life
TIME'S CHILDREN is the first volume of The Islevale Cycle, the new time travel/epic fantasy series from award-winning author D.B. Jackson. This first volume has just been released by Angry Robot Books and is available in trade paper and ebook format. It will eventually be available as an audio book as well.
You can order the book from any of these booksellers: