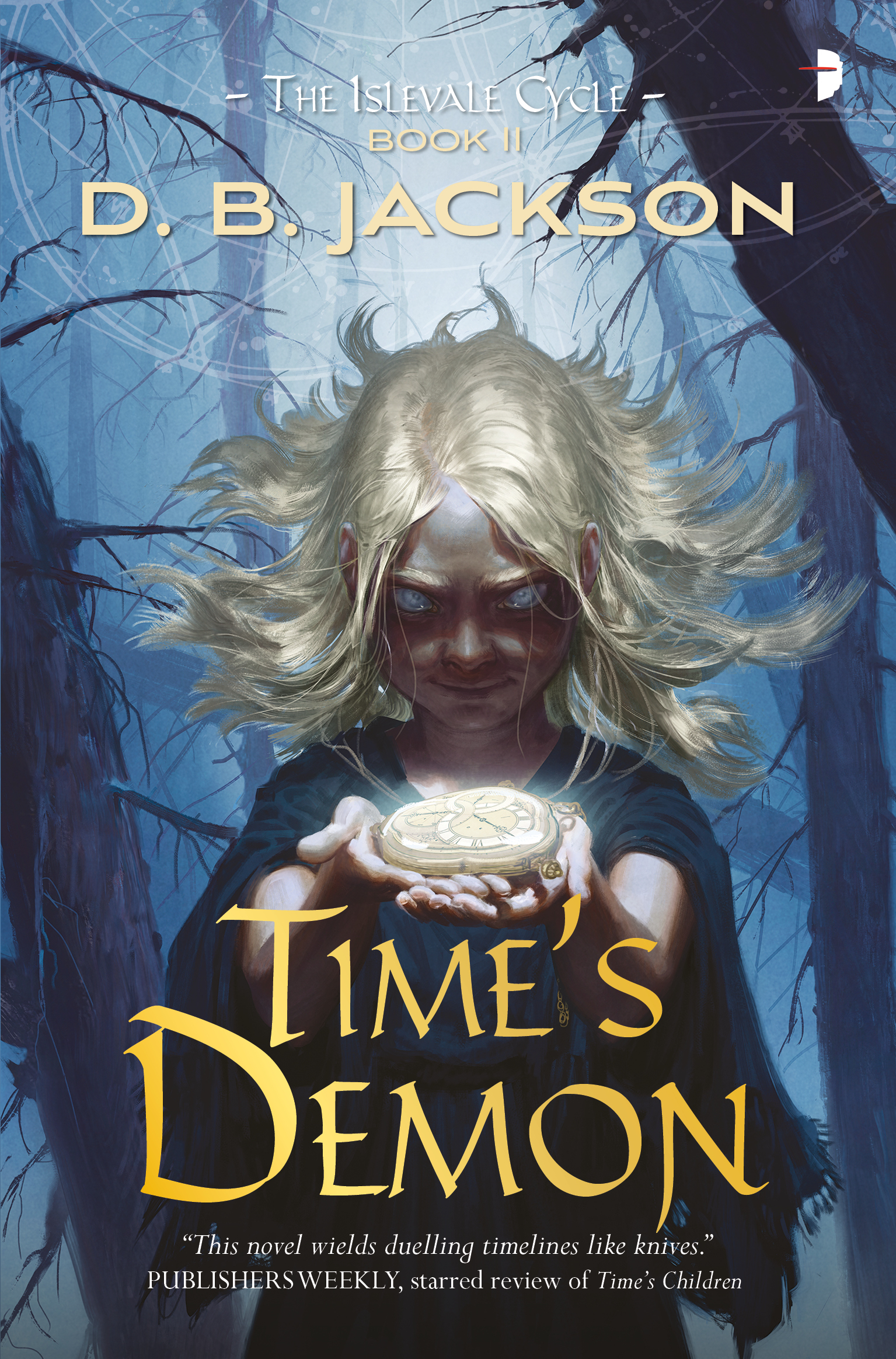 Tobias, Mara, and Sofya have taken refuge aboard a ship of fortune, and are sailing the seas of Islevale, their identities a closely guarded secret. Slavers menace these waters, Belvora demons patrol the skies, and Quinnel Orzili and his trained assassins pursue them still. Danger, it seems, lurks in every port.
At the same time, Droë, a Tirribin or Time Demon, seeks Tobias for reasons of her own. More, she wishes to alter her very nature, to learn what it is to love, to feel passion, to shed her form as a girl and grow into something Islevale has never seen before. Unable to effect this transformation herself, she turns to Qiyed, a powerful Arrokad demon, who wields powerful magic in pursuit of his own ambitions
Now Tobias and Mara's desperate flight forces them to make a perilous choice, one that may offer Orzili the opportunity to finish them, and Droë the chance to realize her desires and throw off Qiyed's dark influence. As these disparate lives converge, driven by fate and time and forces beyond nature, Islevale's future is poised on a blade's edge.
"Time's Demon is a riveting sequel to my favorite fantasy novel of 2018, Time's Children. The new addition to the Islevale series goes beyond the initial excitement of time travel, magical abilities and the intrigue of war to dive deeper into the dark mysteries of this masterfully created world" –Reviews and Robots
"Time's Demon, for my reading time, is about as perfect a second book in a series as a reader could hope to have. Jackson strikes a great balance between introducing new characters while also giving ample time to the characters in which we as the reader have already invested our time and emotion.  Along similar lines, Jackson continues to put his world-building skills on display very smartly. There was a rich foundation laid out in Time's Children which allowed a little more focus to be on the characters and plot here in the second novel of the series. That isn't to say more depth to the world, its history, and mythology weren't revealed. Conversely, the world was enriched by what Jackson showed readers in Time's Demon…Two books into the series and The Islevale Cycle is growing into a remarkably entertaining series that manages to tread some new, thoughtful, and interesting ground.  Sure time travel in fantasy isn't the most common combination of genre toys so that in itself is somewhat unique. Fortunately, Jackson is able to give the story a great deal of originality, life, and energy to set this saga well above the uniqueness of that combination…Highly recommended." – SffWorld
"A spectacular follow up to Time's Children. The second book of the Islevale Cycle is so riveting it actually surpasses book one… I found it nearly impossible to put down. A fabulous portal flintlock fantasy that I will recommend heartily for years to come." – Grimmedian
"Like I've already stated that I love the magic system in the Islevale novels – I love the jargon, I love the limits (and the fact that a lack of limits is what's making several people in this book very dangerous), and I love that Jackson decided, "You know what? Time travel." It's an ambitious undertaking, and whenever it's done well it just like, hits me right in the brain and fills me with so much joy…This is definitely a book you need on your shelf. And if you haven't read the first book, TIME'S CHILDREN, you need to hop on that one too. I mean it – this book is far too excellent to sleep on." – LitCastofDoom
"In my opinion, it was the characters of Time's Children that made it such an entertaining read. Not only does Demon continue this trend, but builds upon it…Time's Demon capitalizes on the successes of Time's Children with strong characters, immersive world-building and superior dialogue." 4 stars out of 5 – A Refuge From Life
TIME'S DEMON is the second volume of The Islevale Cycle, the new time travel/epic fantasy series from award-winning author D.B. Jackson. This second book in the series has just been released by Angry Robot Books.
The book is available from any of these booksellers: