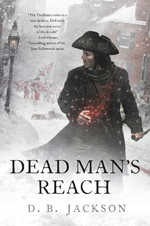 Named one of the Best Books of 2015 by SciFiChick.com.
"Never count them dead unless you have the body" is an old pulp warning, one that thieftaker Ethan Kaille takes to heart in the satisfying fourth entry of Jackson's maturing historical urban fantasy series. Ethan continues his hardscrabble career chasing stolen goods in 1770 Boston, trying to avoid the occupying British soldiers and the toughs commanded by his rival, Sephira Pryce, the Empress of the South End. Usually aided by his magic, Ethan finds that it is being tapped by another conjurer to trigger violence in a city already simmering with rebellion. He suspects that the interloper is his nemesis, Nate Ramsey, a spellcaster who disappeared after a fiery showdown in 2014's A Plunder of Souls. Worse, Ramsey's vengeance includes Ethan's nearest and dearest, forcing him to make ugly choices between personal and civic duty. Jackson deftly mixes in the chaos of the Boston Massacre and the sobering realities of colonial street life, presenting a hero who is driven yet reflective on his responsibilities." — Publisher's Weekly
"As usual, Jackson's intimately detailed historical backdrop is a major advantage . . . A thoroughly engrossing and involving entry that no series fan will want to miss." — Kirkus Reviews
"Colonial politics, mystery, and a wild array of magics (ghostly spirit guides from past eras, Latin spells, arcane formulas in old tomes, witches' tales) combine for a heady brew in Dead Man's Reach." — Locus
"Magic is so easily woven into DEAD MAN'S REACH that I'd almost believe that magic users really did exist in Boston then! . . .The story in DEAD MAN'S REACH is about the consequences from the previous books and is basically an epic historical thriller with magic thrown in to make things interesting.  And interesting it is . . . If you love historical fiction with a touch of magic, and the darkness of a thriller then you'll love DEAD MAN'S REACH and the previous books in The Thieftaker Chronicles. 4 'bats' out of 5." — All Things Urban Fantasy
"Dead Man's Reach is the fourth (and final, for now) installment in The Thieftaker Chronicles. This has been a favorite series of mine, so I hate to see it end. But this novel wraps up an open-ended storyline that doesn't disappoint . . . I love these characters, the mysteries, and unique world. And I certainly hope that eventually more books follow in this fantastic series. It's always one I'll recommend." — SciFiChick.com
"In what may be his last Ethan Kaille novel, Jackson, I think, has produced his best work yet (thus the four-star rating). Which makes it easy to both recommend the series as a whole to any readers who have yet to start it . . . and to ask Jackson if we could please get one or two more, sirrah? Four stars out of five." — Fantasy Literature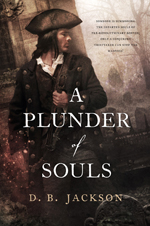 Named one of the best books of 2014 by SciFiChick.com.
"Brilliant characters in a brilliant book! . . . A Plunder of Souls toys with the uncertain barrier between here and the great beyond. The plot is gripping — fast moving — and a very worthy read (I should know, I read it in a single breathless day). But it doesn't stop there. Readers will find that the characters remain sharp and tangible long after the plot has come to a (rather uncertain?) close. The snap of dialogue, the crossed glance, the coarse texture of fabric and feather, wood, and leather all coalesce to make these some of the brightest and best characters I've encountered in a long while. I would watch them do laundry. But it's much better when they are running rough-shod through a warehouse district thick with the disturbed dead. Not only am I anxious for the next in the Thieftaker series, but I'm going to go back and catch up." — Huffington Post
"Once again, Jackson serves up a marvelous blend of tactile history and shadowy magic, placing the reader on the front lines witnessing the tale unfold. The historical accuracy and flavor underpins the fantasy elements, making it seem as though the magic created and used by Ethan and his cohorts could, in fact, be real. The relationships develop and grow in this outing, earning the author extra points in one particular instance which shall not get spoiled here. A few secondary characters get a bit more page-time, which serves to widen Ethan's support system and add depth to the story. The narrative flows smoothly, the suspense never flagging all the way to the very satisfying end . . . As much as this reviewer has enjoyed the previous two books in the series, the author hits it out of the park with the brilliant A Plunder of Souls, for both its premise and its execution. This terrific series should appeal to readers of urban fantasy, traditional fantasy, and those historical fiction fans who do not mind a bit of the speculative thrown in. Waiting another year for book four will be much too long. 5 stars out of 5″ — Bitten by Books
"A Plunder of Souls is an impressive mixture of the macabre, historic fiction, and fantasy. I thoroughly enjoyed this fast-paced and exciting adventure. Once again, this dark and magical mystery kept me on the edge of my seat with its intriguing characters and intense story. As one of my favorite fantasy series, I can't recommend it enough." — The SciFi Chick
"A Plunder of Souls is a perfect example of how historical fantasy should be written. It has everything a great novel should have: great characters, a thoroughly detailed world and a great story . . . D.B. Jackson delivers with A Plunder of Souls, once again and for the third consecutive year in a row, one of the best fantasy books of the year." — Fantastical Imaginations
"A Plunder of Souls is a terrific addition to the Thieftaker Chronicles. D.B. Jackson shows once again that he knows how to pull all the right strings to create one creative story. . . A Plunder of Souls is a great book and features nicely as a standalone, D.B. Jackson has signed a four book deal so I am curious to see just where the fourth book will take us and in the meanwhile I will be rooting that it will be extended beyond the four books! Definitely a recommendation." — The Book Plank
"This engaging third entry in Jackson's Thieftaker series (following 2013's Thieves' Quarry) ably mashes up the historical with the fantastic. Ethan Kaille, conjurer and private investigator, navigates 1769 Boston, which suffers from smallpox and British occupation. Hired by suspicious Church authorities, he hunts grave robbers who leave behind grisly messages that seemed aimed at him. Worse, the uneasy spirits of the disturbed dead haunt their old homes. When Kaille's magic starts to fail, he is forced to unite all of Boston's spellcasters—including his rival, the dangerous and beautiful Sephira Pryce—to face a threat that menaces both the living and the dead. Jackson (pseudonym of David B. Coe, the Blood of the Southlands trilogy) foregrounds the mystery, but still mixes in some politics as Kaille faces British-baiting, stone-tossing adolescents, and ducks the misplaced gratitude of the Sons of Liberty. The fiery climax recalls other urban fantasies, but Kaille and his city remain their own creations. Jackson is an increasingly reliable tour guide to America's colonial past." — Publisher's Weekly
"Jackson's attention to period detail, portraying Boston in 1769 as a powder keg on the verge of explosion, provides extra tension in this enjoyable historical fantasy." — Booklist
"There's a great sense of adventure interweaved with witchcraft skillfully set in the streets, taverns and wharfs of pre-revolutionary war Boston . . . A Plunder of Souls was an enjoyable read and should appeal to anyone who particularly enjoys fantasy in a historical setting." — All Things Urban Fantasy
"Once again, the historical verisimilitude and atmosphere are major advantages, along with the Latin spellcasting and rather more contemporary gumshoe-noir tone." — Kirkus Reviews
Named one of the ten best books of 2013 by Fantastical Imaginations (ranked #3); Named one of the twenty best books of 2013 by the Ranting Dragon (ranked #11); Named one of the best books of 2013 by SciFiChick.com.
"This book is for the urban fantasy enthusiast who wants something completely new from the urban fantasy fare. This is a book for anyone who enjoys historical fiction and who enjoys fantasy and would like to see the two things together. This is for any fantasy fan who enjoys the history of American Revolution. With engaging characters, a snappy plot, and some exceptional worldbuilding that transports the reader 250 years into the past, D.B. Jackson's Thieves' Quarry is, simply, damned good writing. (4 1/2 stars out of 5)" — Ranting Dragon
"D.B. Jackson's Thieves' Quarry, the sequel to Thieftaker, is a book that should serve as a blueprint on how to properly write historic urban fantasy . . . the story takes some great twists and turns with some surprising alliances and even more surprising betrayals. I can honestly say Thieves' Quarry is the first book I've read in a very long time that never lost my attention and honestly had me riveted from the first page . . . Simply said, this is a world of characters I look forward to spending a lot of time with in the future." — LitStack
"After finishing Thieftaker, it was hard to imagine how Jackson could raise the stakes in Thieves' Quarry, but he did . . . Call it historical urban fantasy or call it tricornpunk, if you like history, mystery, and gritty urban fantasy, you will not call Ethan's newest story a disappointment. (5 Stars out of 5.)" — Orson Scott Card's Intergalactic Medicine Show
"The absorbing suspense and crisp pacing add to the enjoyment of this excellent novel, which should appeal to readers of all types of fantasy as well as historical fiction fans who do not mind expanding their horizons a bit. This reviewer remains quite sure that the wait for book three of Ethan's adventures will be much too long. (4 1/2 'Gravestones' out of 5.)" — Bitten by Books
"This was an intriguing book that will appeal to readers of both urban and historical fantasy.  With well developed characters and a dark, gritty alternate history peppered with magic, this is a series I'll be reading more of in the future. (4.25 'Shadows' out of 5)" — From the Shadows
"Thieves' Quarry is the second installment in the Thieftaker Chronicles. And I enjoyed it even more than the first. The suspense was intense. The characters were vivid. And the mystery was captivating and surprising. Ethan Kaille is an inspired character in a key time period in America's history. I highly recommend this outstanding series." — The SciFi Chick
"Thieves' Quarry is a follow-up to my favorite urban fantasy novel of 2012, D.B. Jackson's Thieftaker. I started this book with high expectations and it somehow managed to exceed them…The mystery at the heart of Thieves' Quarry is one of the best I've come across in the urban fantasy genre…As good as the mystery was I'd make the claim that the interactions between Ethan and the other characters (especially his dealings with nemesis and fellow thieftaker Sephira Pryce) are even better. At times humorous, sometimes sad and always real, these are characters you're going to quickly find yourself attached to. Jackson also does a great job of interweaving historical figures in to the narrative…It goes without saying that I highly recommend Thieves' Quarry. If you're looking for a great book to curl up with while waiting for the fireworks this Fourth of July then look no further than this one. 5 'Bats' out of 5." — All Things Urban Fantasy
"Thieves' Quarry is D.B. Jackson's solid follow up to his first historical fantasy, Thieftaker, set in pre-Revolutionary (barely) Boston. In it, Jackson raises the stakes from the very start . . . As with the first book, the strength of Thieves' Quarry lies in its characters. Ethan is an engaging lead character, and as I mentioned in my review of Thieftaker, I greatly appreciate that Jackson presents us with a character outside the usual callow youth mold that dominates so much fantasy . . . Thieves' Quarry was a smooth, enjoyable, and engaging read and I hope Jackson gives us another book or two with this character. 3.5 stars out of 5." — Fantasy Literature
"With solidly developed characters, the vivid depiction of 18th-century Boston, and a seamless blend of realism and fantasy, this sequel to Thieftaker should interest fans of historical fantasy, alternate history, and period mysteries." — Library Journal
"At once a gripping historical mystery and an inventive urban-style fantasy, the book should appeal to a wide spectrum of readers. Jackson, who has a Ph.D in American history, does an excellent job of making us feel like we're in Boston not long before the War of Independence. More Ethan Kaille adventures would be most welcome." — Booklist
"Splendid period detail and spell-casting in church Latin combine felicitously with the contemporary gumshoe-noir tone . . . An unusual series of great promise." — Kirkus Reviews
"Jackson deftly blends history and fiction in a tangle of alliances (including loyalist Ethan teaming with a Royal Navy surgeon sympathetic to the rebels) amid Ethan's moral conflicts over the uses of magic and drawing friends into the dangers of questionable work." — Publisher's Weekly
"Thieves' Quarry is to me one of those rare novels that you'll love from the first page til you close the book, an instant classic. Would I be a reviewer that rated books with stars, I would give Thieves' Quarry the full five stars." — Fantastical Imaginations
"In all honesty, there was nothing I didn't like about Thieves' Quarry.  I found it a solid followup to Thieftaker, with an interesting setting, engaging characters and an intriguing plot. . . Five Stars." — Scottish Bookworm in Quebec
"I literally read this book in one sitting. Its fast pace, shocking crime, vivid historical setting, and the twists and turns of intrigue and suspicion totally absorbed me." — Kate Elliott, author of King's Dragon
"D.B. Jackson's writing is amazing and Thieves' Quarry is even better than the first book. Absolutely enthralling and I couldn't put it down. It's a wonderful read!" — Kat Richardson, author of Greywalker
"The Thieftaker series is a tour de force. There is no way to get enough of it– and I LOVE Thieves' Quarry. This is definitely the best new series of the decade!" — Faith Hunter, author of the Jane Yellowrock books
Critical Praise for Thieftaker: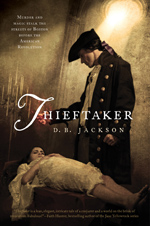 Named one of the Best Fantasy Books of 2012 by SciFiChick.com
Named "Best First Book in a Series" for 2012 (one of two books so honored) by the Word Nerds.
Named one of the ten best books of 2012 by Fantastical Imaginations (ranked #3)
"The author does an impressive job of weaving fantasy into historical fiction, and even introduces a few familiar names from . . . the Stamp Act from American history . . . With plenty of adventure, mystery, magic, drama, and thrills – genre fans won't want to miss this one. Thieftaker is a fantastic series debut that I can't wait to see continue." — SciFiChick.com
"Thieftaker is a bit like the Dresden Files meets Johnny Tremain, combining magical crime-solving with the Revolutionary War. At first, it sounds like a strange combination, but it works and I'm already looking forward to the sequel . . . A fun read." — The Word Nerds Book Banter
"Jackson has an enviable gift for detail, the ability to put his reader smack-dab in a location (Boston, 1765) with such intensity that you can hear the burr in voices, smell the smoke and tea in the air, and wince when the hero gets punched in the face . . . Thieftaker is a delicious murder mystery sundae, with a sprinkle of supernatural bravado and a few famous historical figures for cherries on top." — Orson Scott Card's Intergalactic Medicine Show
"Thieftaker is an intriguing new book . . . Its unusual setting, winning characterizations, and unique mix of historical fiction, mystery (with a real noir tinge) and fantasy . . . left me looking forward to spending more time in this world . . . The real strength of Thieftaker, though, lies in its characterization. Rather than the usual young or sheltered protagonist awakened to a world of danger and/or magic, Ethan is delivered up sort of in media res . . . He's lived an entire life already. All these interesting tidbits of his past make him a more intriguing and a more fully realized character . . . Other characters, ones whom I assume we'll certainly see again in a follow-up, are equally winning, especially the several strong female characters, which include Sephira (who is pretty much a step ahead of Ethan the whole way), Ethan's significant other Kannice, who runs her own tavern and does so with an iron will, and Ethan's former love." — FantasyLiterature.com
"Thieftaker is a solid piece of historical fantasy. Jackson presents an excellent world in which powers of magic and the Boston we learned about in high school American history class can co-exist. The system of magic Jackson developed for Thieftaker is well-explained and fleshed out." — Bookshelf Bombshells
"D.B. Jackson has struck several different notes and struck them all well, combining just the right amount of historical veracity and magical alteration. I highly recommend it to fans of historical fiction, crime thrillers, urban fantasy, and anyone else looking for a great way to spend a weekend. Thieftaker is just a fantastically fun novel." — A Dribble of Ink
"Inventive . . . Blending genres is seldom easy, but the historical and supernatural elements work together seamlessly. The plot is lively with period color . . . and vivid support characters, notably the seductive Pryce and the ghost girl Anna. It's essentially a well-turned mystery whose supernatural elements add to the intrigue . . . Entertaining." — Kirkus Reviews
"Everything in this book is meticulously researched.  The time period feels completely real.  The dialogue, clothing, and numerous historical characters all lend Thieftaker an authenticity that allowed this magical story to shine. . . Imagine Sherlock Holmes meets Harry Dresden and you have a pretty good idea of what this book is like. . . . [A] thoroughly entertaining book.  Jackson's well-researched historical details coupled with his fresh and comprehensive worldbuilding are not to be missed.  Jim Butcher fans take note: Ethan could be Harry Dresden's forebear. (4 bats out of 5)" — All Things Urban Fantasy
"D.B. Jackson brings readers an evocative and captivating urban fantasy set in pre-Revolutionary Boston. Thieftaker is a fast-paced, visceral ride. A historical fiction with embers of fantasy, it's an authentic and surprisingly relatable adventure." — Authorlink.com
"Full of rich, well-rounded characters, extremely atmospheric and just riveting. (9 out of 10)" — Nocturnal Book Reviews
"Thieftaker, the fabulous first installment in The Thieftaker Chronicles series, proves a rousing mix of fantasy and history . . . a highly satisfying and tremendously effective blending of genres, [that] should please fans of historical fiction as well as fantasy. This reviewer eagerly awaits the next volume in Ethan's story, Thieves' Quarry, due in 2013. (5 Gravestones out of 5)" — Bitten By Books
"This diverting, fast-paced "what-if" debut novel set in colonial America will appeal to fans of genre-benders." — Booklist
"Hard-boiled . . . A noteworthy series opener." — Publishers Weekly
"The blend of genres that D.B. Jackson has created works extremely well and makes a fun, interesting read. I would definitely recommend it…Four Stars." — Scottish Bookworm in Quebec
"Thieftaker is a superb blend of fantasy and alternate history, set in a period that seldom gets visited by either." — Eric Flint, author of 1632.
"Thieftaker is a gripping mystery, full of magic, and human emotion, that just happens to be set in 1765. Pre-Revolutionary War America has never been so exciting. How exciting? I missed my bus stop because I was reading this book. The level of historical detail makes it seem totally plausible that thieftakers and conjurers were active in Boston in 1765. What I particularly enjoyed was that the history didn't slow the story down, it just enriched it." — Mary Robinette Kowal, author of Shades of Milk and Honey
"D.B. Jackson has masterfully woven history and fantasy to create a pre-Revolutionary Boston that should have been. Peopled by an array of entertaining characters from conjurers to revolutionaries, Thieftaker is a compelling novel by a writer who knows what he's doing. I look forward to reading more of Ethan Kaille's adventures!" — C.E. Murphy, author of the Walker Papers
"Thieftaker is an elegant, intricate tale of a multilayered, tortured conjurer and a world on the brink of war. With skillful, clever plotting and prose sharper than a spelled blade, D.B. Jackson has woven real history with imagination and created a character and a story to believe in and cheer for." — Faith Hunter, author of the Jane Yellowrock books
"What a marvelous book! A beautiful balance of magic and crime, history and fantasy that was fast-paced, compelling, and completely absorbing. Historical fantasy that reads like an old-school crime novel, as if Raymond Chandler were channeling Jonathan Swift. I loved it!" — Kat Richardson, author of Greywalker
"D.B. Jackson emerges as a leader of the new American Revolution in historical fantasy. Thieftaker is a fresh, original adventure set in a colonial America that is at once familiar and unlike any version in history or fiction that you've seen before. I read this book in one day and can't wait to read the next book in the series!" — C.C. Finlay, author of the Traitor to the Crown series
"D.B. Jackson's Thieftaker brings colonial Boston to life — with a twist of magic. And that's not the safest trade in a place and time not so far from the Salem witch trials. Engaging characters and vivid description make this a refreshingly original read. Well done!" — Lynn Flewelling, author of Casket of Souls
"Thieftaker is an excellent blend of mystery and magic set in the turmoil of Colonial Boston as revolution brews and political factions collide. The setting is vividly painted, and the story is a fine portrait of a man caught between his bitter past and its legacy, and the constant dangers and reversals that dog his attempts to build a new life for himself." — Kate Elliott, author of Cold Magic