This week I conclude my series of posts on how I came to be a professional writer. You can read the previous posts before moving on with this one. We'll wait. [Part I, Part II, Part III, Part IV]
There! Now you're all caught up. Feel better?
I'm calling this an Epilogue, because it seems foolish to go through every step of my career, when much of it has been fairly public and thus easy to trace through my publications, reviews of my work, con appearances, social media and the like, and my own blog posts about various experiences. Far more valuable, I believe, will be a discussion of a few key points about what I have learned in my twenty-five-plus years as a professional.
I'll start with this. Recently, while giving a talk to the Apex Writer's Group, I was asked what I know now about writing that I wish I had known from the start. My answer: I wish I had known then that career trajectories are not linear, they are not smooth, they are not simple. I have said a thousand and one times that writing is hard. A couple of weeks ago I went on a little rant about how we writers should handle adversity without just giving up on the whole thing. But the fact is, I have contemplated quitting more than once. My career followed a nice, upward trajectory for a time, but then, due both to circumstances beyond my control, and to poor decisions I made myself, my march toward bigger and better things halted, stumbled, took a few steps back. My sales numbers dipped. I reinvented myself. Things improved, but then more events I could not control (and a few I could) knocked me back again. Things seemed to be righting themselves and then they fell apart once more, this time through no fault of my own.
Yes, this is vague. Some of the stories that have impacted my career are not mine to tell. Others are, but they involve me casting light on questionable behavior and choices by others and I won't go there. Another lesson: This — fantasy, writing, publishing — is a relatively small community and we need to be careful about the stories we tell, the actions of others we expose, the decisions we question publicly.
And really, the specifics are beside the point. Because what I'm talking about — the unpredictability of one's writing fate — is something nearly all writers experience. I know precious few authors whose careers have followed a smooth, ever-rising trajectory. Most of us are knocked on our butts again and again and again.
What separates the professionals who enjoy long careers from those who don't is the willingness of the former to get up off their rear ends each time they're knocked down. As I said, I have contemplated giving up multiple times. But I never did quit.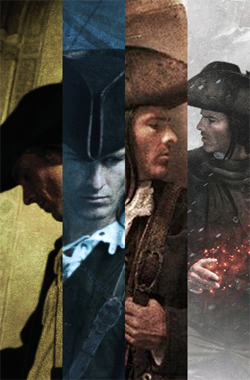 I am not the most talented writer I know. Not by a long shot. I am good. I believe that. My character work is strong. My world building is imaginative. My prose is clean and tight and it flows nicely. I write convincing, effective dialogue and I have a fine eye for detail. My plotting and pacing, which were once just okay, have gotten stronger over the years. I think writing the Thieftaker books — being forced to blend my fictional plots with real historical events — forced me to improve, and that improvement has shown up in the narratives of the Islevale and Radiants books.
But there are plenty of other writers who do all those things as well as I do if not better. I have been helped throughout my career, though, by a few other qualities. I am disciplined and productive. I work every weekday and at least one day on weekends. I consistently hit my word counts and meet my project goals. I never miss a deadline. I have developed a thick skin — mostly — and have learned not to take to heart criticism and rejections and bad reviews. (Mostly.) I am resilient. And, with effort and practice, I have learned to take to heart the advice I often give to self-define success.
I'm writing and editing for small presses now. I don't know when or if I'll go back to the bigger ones. I love my current publishers, and see little need to switch back to the high pressure relationships I once had with big-name houses. I'm writing books I love, and that is, I believe, a key to being successful as I define the word. I don't expect any one project to make me a ton of money, and that's okay. I'm happier in my career right now than I have ever been. Partly this is due to my enjoyment of my relatively new career as an editor. This year will see the release of my fourth co-edited anthology with Zombies Need Brains. And I will also continue to expand my freelance editing business. At this point, I expect I'll spend more time in 2022 editing than writing.
This is not at all where I envisioned myself when I started my career. Back then, I was filled with dreams of bestselling books and a shelf (or two) filled with World Fantasy Awards. Okay, that's an exaggeration. But I did hope my commercial performance, which has always been a bit disappointing, would match my critical success, which has always been a point of pride. The fact is, though, the business today is greatly changed from where it was when I began. Back then no one had ever heard of e-books. I built myself a web page when my first book came out, and just having a web page conveyed more legitimacy than the publication itself. Seriously.
"I have a book out!"
"Meh."
"I have a web page!"
"Oooooooh! You have a web page!!"
It is a changed world, and it is also now a much harder market. An ever-growing universe of authors are seeking the attention of a fairly static universe of readers, meaning sales for each writer are harder to come by. Advances are smaller if they're offered at all. Many authors are working harder and harder just to maintain a level of income that is, nevertheless, lower than it used to be. Commercial success means something different now than it did when I began. I count as a triumph the mere fact that I continue to get writing contracts.
I once thought I would reach a point where I stopped worrying that my career would tank, forcing me to give it up as a full time profession. I was disabused of that notion early on by a writer who was very successful and who told me, "Oh, you never stop worrying." And it's true. I have been able to continue writing full-time because my partner in love and life has a good job that provides not just the bulk of our income, but also our health care and retirement funds.
The hard truth is, on some level my mother was right when she and I had our big fight about whether I should teach history or write fantasy. As a history professor I would have made a decent living. I would have had job security, retirement accounts, health benefits. And yes, that would have been success as defined a certain way.
But I believe I also would have been miserable.
Again, I find myself struck by my good fortune. Throughout my professional life, I have had the luxury of pursuing a career I love and choosing to define my success not just in terms of earnings, but also in terms of joy. It's a cliché, but there is no way to put a price tag — or a royalty statement — on that.
Have a great week.