Today I continue my series of posts on how I got started in writing. (If you want to catch up, you can find the first post here, and the second post here.) The subtitle of this collection of posts is "A Case Study of Dubious Worth," and today we really begin to delve into the dubious side of things. So read on, and prepare to disregard everything I have to say . . .
When we left off last week, I was in college still, having abandoned my plans to major in creative writing, because of A) a crappy experience in a creative writing course, B) my parents' rather trenchant observation about the lack of earning power for Brown graduates with BAs in creative writing. I graduated with my degree in American Studies, worked briefly for a political consultant I'd interned with the previous summer, and applied to Ph.D. programs in U.S. history. I loved the subject and thought I could satisfy my passion for writing by being a historian.
I was wrong.
Yeah, I know: spoiler.
I could take you through my grad school experience, which was hard, but also rich with amazing people, academic challenges and epiphanies, and the beginning of the love relationship that would shape the rest of my life. But here are the salient points. First, writing history wasn't my calling. Yes, I love the act of writing. But it turns out I also love creating characters and plot lines and even imaginary worlds. And apparently you can't do that with history and expect to get tenure. Who knew? Second, while writing my dissertation was not at all like writing fiction, I did learn a tremendous amount from the process, because, once again, I had a fantastic teacher. My advisor at Stanford was the Pulitzer Prize-winning historian David M. Kennedy. He was a remarkable, exacting mentor whose high standards and generous feedback improved immensely my prose and narrative skills.
I knew before finishing my degree that I was on the wrong professional path, but I felt stuck — I had devoted years of my life to getting my Ph.D. How could I change course now? — and I was determined to complete my doctorate no matter what. So finish it I did, in May 1993. I figured I would apply for academic jobs in the coming academic year (1993-94) and see how I felt about whatever offers I received.
By this time, Nancy and I were married, and she had taken a job teaching biology at Sewanee: The University of the South, in Tennessee. Soon after I completed my degree, she said something to me that changed the trajectory of my life. "Since the day I met you," she told me, "you've talked about wanting to write a novel. The first history jobs won't be posted until the fall. You have all summer. Why don't you try writing and see if you enjoy it?"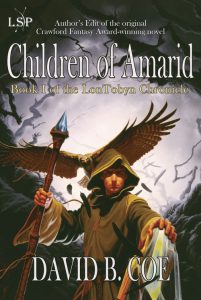 I did just that. I started with some short stories that have never since seen the light of day, but which helped me to shape the contours of my world and its history. Then I began work on the novel, and by September had completed the first five chapters of what would eventually be Children of Amarid, my first published novel. I gave the manuscript to a friend of the family who had been a publisher, and he agreed to act as my agent, operating under standard agenting fees. He sent those five chapters and an outline of the rest of the book to various fantasy publishers.
In the meantime, I began my history job search and found a listing for a tenure track position at Colorado State University teaching U.S. environmental history. I took the listing to Nancy and said, "This is my job. This is the one I'm going to get." It was a perfect fit, and Colorado was a place we'd dreamed of living. If I was destined to teach history, this was the job for me.
And sure enough, I interviewed for the position at that year's American Historical Association Conference, had an on-campus interview early in 1994, and on a Thursday in March received a call from the chair of the history department, who offered me the job.
Again, this was my perfect history job. I should have leapt at the offer. But the thought of doing so made me nauseous. For the past several months, even as I applied for history jobs, my thoughts had been on that manuscript floating around the halls of New York's big fantasy publishing houses. That was the future I wanted. That was my dream.
I asked the chairman of the Colorado State history department if I could have until Monday to give him an answer. He said yes, reluctantly.
The next day — yes, that's right: the next day — I got a call from an editor at Tor Books. He had read my chapters and wanted to buy the publishing rights to Children of Amarid.
And for this week, I'm going to stop there, with my 31-year-old self contemplating this improbable confluence of my two professional paths. We'll pick up the story next week with the decision I faced that fateful weekend.
In the meantime, a few points to emphasize. As I said, this is the part of my story where the dubious worth of my experience really becomes obvious. The industry has changed so very much in the past thirty years. My friend who served as my agent was not licensed in that capacity. He was a publishing bigwig. People in the industry knew his name. And he and his wife were my parents' dearest friends in the world. I was SO lucky in this regard. Having an agent at all was a huge advantage — having HIM for my agent was even better. I'm not sure that in today's world that sort of informal arrangement would even be tolerated.
Moreover, in today's publishing world there is also no way in hell that I could sell a novel based on five chapters and an outline. It's laughable even to contemplate. I was a first time novelist with no fiction credits to his name. Yes, I had completed my Ph.D. and so could point to that as proof that I was capable of writing a book-length manuscript. But that hardly qualified me as a novelist.
As it happened, though, the Tor editor who read my chapters had recently bought and edited a book called Wizard's First Rule, by Terry Goodkind, which was a runaway bestseller. After that, Tom Doherty, the founder of Tor Books, told my editor that he was free to buy the next book he found that he thought had potential. My editor had once worked for my agent and so the next book to land on the editor's desk was mine. He liked it, thought it could be good. But if Goodkind's book hadn't struck gold, he might not have been free to make the offer on Children of Amarid. If my agent had known a different editor, that person might not have had the freedom to take a chance on an inexperienced unknown like me. And yes, it also bears mentioning that every person in this little story — the agent, the editor, the publisher, the bestseller, and the young writer — was a white man. I was helped enormously by my privilege and that of the people around me.
All this by way of saying that I was fortunate beyond words in every respect.
Don't get me wrong: That first book was good, as were the volumes of the LonTobyn Chronicle that came after. They were strong enough to eventually win the Crawford Award as the best fantasy series by a new author. Despite my lack of experience, I knew how to write, how to tell a story, how to create compelling characters.
But my career path was charmed, and I trod it at a time when it was far easier to break into the business.
Next week, I'll trace the early growth of my writing career. In the meantime, have a great week.