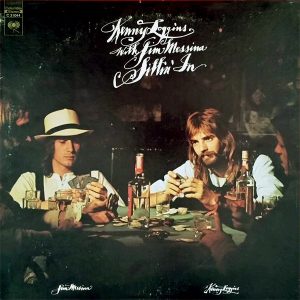 For this week's Creative Friday post, I'm doing something a little different, and writing about someone else's creativity.
Lately, I have been on a kick of going back to old music that I once loved but lost touch with along the way. Some of it I have tried to rediscover only to find that it's really not all that good and ought to have stayed lost. But a few of the albums I have gone back to have surprised me with their quality. One of them is an old classic: Kenny Loggins and Jim Messina's Sittin' In.
Actually, the album is officially credited "Kenny Loggins with Jim Messina." When they started together in 1971, Loggins was a young singer/songwriter at the start of a promising career, and Messina was already a rock veteran, having enjoyed success in Buffalo Springfield and Poco. Messina was brought in to produce a Loggins solo album, but wound up contributing songs and arrangements, not to mention guitar work and lots of vocals. In the end, they released the album as a duet. Over the next five years, before their somewhat messy break-up in 1976, they went on to release six studio albums and a live album. After the break-up they fulfilled some contractual obligations with another live album and a couple of greatest hits releases.
They're probably best known for an old-time rock tune called "Your Mama Don't Dance," a song I never cared for all that much. And several of their later albums sold better than the first. But to my mind, Sittin' In was the best album they put out.
It includes a couple of beautiful and popular ballads. Loggins wrote "Danny's Song" to celebrate the birth of his brother's son. This is one of those songs that no one knows by title, but everyone recognizes. The chorus has been sung by crowds in college coffee houses for nearly fifty years. "Even though we ain't got money/I'm so in love with you, honey/And everything will bring a chain of love…"
"House at a Pooh Corner" is a lovely-if-saccharine-sweet homage to childhood, and another coffee house favorite.
But where the album really shines is in its up-tempo numbers, which combine the exuberance of straight-ahead 70s rock, with the instrumentation of country. "Nobody But You," which opens the album, is one of my favorite songs of all time. By anyone. From the opening guitar lick, to the tidy, tasteful finish, the song simply soars.
"Back To Georgia" begins what was once the B side of the album with similar energy and power. The centerpiece of that second side is the smoky "Same Old Wine," which could well have been written today:
Well we give them the election,
That keeps filling our heads full of lies;
Can we trust in new directions,
When their promises are in disguise?
Well someday the truth will catch up
I just hope it don't catch us all by surprise.
The album also includes "Vahevala," a calypso-influenced song that was the biggest hit on the album. It remains catchy and affecting, though fifty years on, some of the lyrics are, let's say, problematic. A tight three-song medley on the old A side ends with the soulful "Peace of Mind," and Loggins' piano ballad, "Rock and Roll Mood," completes the collection. There really isn't a bad track here. I can't say that about too many albums.
Without a doubt, part of Sittin' In's appeal for me lies in nostalgia. This is an album I listened to throughout my adolescence and well into my college years. It carries some wonderful memories, as well as some more poignant ones. But as I said before, I have been listening to lots of albums from that part of my life, and some of them don't hold up well at all.
This one does.
If you don't know it, you should check it out. If, like me, you had it once, but lost touch with the music, give it another listen. I think you'll be pleasantly surprised.
Have a great weekend. Stay safe. Be kind to one another.