I have written about the holidays a good deal in the past few weeks, but I have yet to address holidays as a topic in a Writing-Tip Wednesday post.
Now, you're first response to this might be, "Well, why would you?"
And my answer? "World building."
Think about the holidays that mark our calendars. Christmas, Easter, Ramadan, Passover, Yom Kippur — these are events that reveal much about our faiths, about the histories and traditions of the religions that guide the lives of so many. Veterans Day, Thanksgiving, Labor Day, Memorial Day, the Fourth of July, Martin Luther King Jr. Day, Presidents' Day — these holidays carry meaning for our secular history, showing who and what we as a culture and society value year after year. Even Halloween and Groundhog Day, which are not holidays in any real sense of the word, offer glimpses into a pagan past that a small but significant part of our population still honors with celebrations marking Beltane, Samhain, Candlemas, the Solstices and Equinoxes.
Every culture and country has its special days, and every one of those special days comes with a story. Which is why the worlds we create for our novels and short fiction also need to have annual observances. Celebrations of this sort are something people do. They are one way of perpetuating the social norms and cultural touchstones that create communal identity. Holidays at their core, are all about story, about history and faith and tradition. And, as it happens, world building is about precisely the same things.
For the Winds of the Forelands series (Rules of Ascension, Seeds of Betrayal, Bonds of Vengeance, Shapers of Darkness, Weavers of War) , I created what is without a doubt the most complex "calendar" I've ever undertaken for any project. For those of you not familiar with the world, I'll give a very brief description. The world has two moons, Ilias and Panya, the Lovers, who chase each other across the sky. Each turn (month) has one night when both moons are full (the Night of Two Moons) and one night when both moons are dark (Pitch Night). Each turn is also named for a god or goddess, and so each Night of Two Moons and each Pitch Night has a special meaning.
For example, Adriel's Turn (roughly equivalent to our May), is named for the goddess of fertility. According to lore, a love consummated on the Night of Two Moons in her turn will last forever. A love consummated on Pitch Night will end in betrayal. Kebb's Turn (roughly October) is named for the god of the hunt. People believe a successful hunt on the Night of Two Moons presages good hunting throughout the cold turns. Meat from a beast killed on Pitch Night is considered cursed and cannot be eaten. Each turn has similar legends, or in some cases actual phenomena: Pitch Night in Morna's Turn (named for the goddess of thunder) is always a night of violent storms. The first killing frost in the Forelands almost always arrives on Pitch Night in Sivan's Turn. Several Nights of Two Moons and several Pitch Nights are observed with prayer and/or gift giving.
These beliefs and traditions make for a much richer, more believable world. If my characters were to traipse through their year without any sort of holidays or occasions, readers might still be drawn in by the rest of my storytelling, but the world would feel flat, and far less interesting.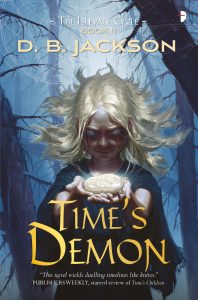 I did something similar for the Islevale Cycle novels (Time's Children, Time's Demon, Time's Assassin). In this world there are two primary deities, Kheraya (female) and Sipar (male), and the calendar is structured around them. It begins with the spring equinox — Kheraya's Emergence, a day and night of enhanced magickal power and sensuality. The spring months are known as Kheraya's Stirring, Kheraya's Waking, Kheraya's Ascent. The summer solstice is called Kheraya Ascendent, a day of feasts, celebration, and gift-giving. This is followed by the hot months of summer: Kheraya's Descent, Fading, and Settling.
Sipar's Emergence coincides with the autumn equinox, the pivot of the year, another day and night of sensuality and enhanced power. And then the pattern of the first half of the year repeats itself — Sipar's Stirring, Sipar's Waking, Sipar's Ascent. These cooler months culminate in the solstice, called Sipar Ascendent, a day of fasting and contemplation. Finally, the year ends with the winter months: his Descent, Fading, and Settling.
In part, of course, I need a calendar for my worlds in order to organize my story. The Forelands books were sprawling and complex, with multiple narrative threads and point of view characters. I had to have a detailed calendar that allowed me to track all the stories and people. And with the Islevale books, which added time travel to the mix, I REALLY needed to know where and when I was in every chapter and on every page.
But my creative work on these calendars went far beyond what I would have required had I simply been interested in a utilitarian time structure. I wanted something that would enhance my storytelling, that would give my readers insights into these worlds and the people who inhabit them. Yes, they're complex. That's the fun part! That's what made this element of my world building so exciting for me.
So as you think about the worlds you're building, consider not only geography and climate, history and religion, weaponry and food. Think about holidays as well. Create a calendar that is completely endemic to your world. And then show your readers glimpses of it. You don't have to let them see every detail. Likely that would be too much. It would drown out your story. Give your readers just enough to hint at all the great work you've done in the background. And take pride in knowing that you have taken one more step toward crafting a fully realized, intricate, living, breathing world.
Keep writing!