This coming weekend, I will be in Atlanta for DragonCon, the annual highlight of my professional calendar. For those of you unfamiliar with the phenomenon known as DragonCon, it is a huge convention that takes over Atlanta's Peachtree Center every Labor Day weekend. In the past, the convention has attracted as many as 80,000 people. This year, in an attempt to control the crowd just a little, I believe attendance at the con has been capped at 65,000. Yeah, that's still pretty big.
The con attracts television and movie stars (although I don't know how the SAG strike will impact their numbers this year), directors, producers, writers (of scripts, novels, comic books, non-fiction, poetry, and pretty much every other written form), agents, editors, artists working in all media, musicians, animators, stand-up comics, costuming professionals, jewelry-makers, crafts-people of all sorts, and, of course, fans from all over the world.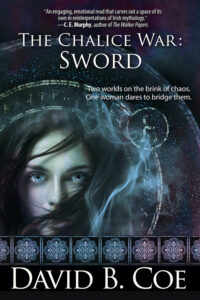 It is a spectacle. It is Mardi Gras for geeks. It is a party. It is a chance to do business. It is an opportunity to reconnect with friends. It is more fun than being six years old.
I will be on programming again this year, doing panels, signings, and a few mentoring sessions for the writers' track. And when I am not involved in official convention programming, I will be in the Westin Hotel bar. If you're in Atlanta for the weekend, please come by and say hello!
Here is my official schedule. (Note: I am listed in all program literature under "D.B. Jackson.")
*****
Title: A Fond Farewell to Mrs. Maisel *Spoiler Warning*
Description: The final season of Mrs. Maisel took Midge's career in a new direction, while her entire family is growing in new, unexpected ways. We might have gotten flashes of Midge's future, but there are still plenty of things for our panelists to discuss.
Panelists: Jenna Johnson, D.B. Jackson, Dan Jolley, Cecilia Dominic, Elizabeth Carpenter(M)
Time: Fri 11:30 am
Location: Augusta Courtland Grand (Length: 1 Hour)
Title: D.B. Jackson signing booth 1201
Description: Come to the special author signing at The Missing Volume booth 1201
Panelists: D.B. Jackson
Time: Fri 01:00 pm
Location: Vendor Hall Floor 1 Mart2 (Length: 1 Hour)
Title: Themed Signing Alternate & Historic Fiction Track: History with a Twist
Panelists: Jean Marie Ward, Tamsin L. Silver, D.B. Jackson, David Boop, Gail Z. Martin, Walter Hunt
Time: Fri 05:30 pm
Location: Overlook Westin (Length: 1 Hour)
Title: The Gather: Welcome Home!!!!!!
Description: The best Gathering around of authors and fans! Who knows what surprises and treasures are to be found. We have more authors than the app will allow us to list, so you will be sure to find some great books to take home with your amazing Con stories.
Panelists: Milton J. Davis(O), John G. Hartness, Sherrilyn Kenyon, Philip Ligon, Jay Boyce, Jeffrey Falcon Logue, Patrick Dugan, William Joseph Roberts, Michael J Allen, Chris Jackson, Marc Alan Edelheit, Tamsin L. Silver, G. S. Jennsen, Katie Cross, David Boop, Quincy J. Allen, Tyra Burton, Matt Dinniman, Gini Koch, James Palmer, Darin Kennedy, Joelle Presby, Tao Wong, Harmon Cooper, D.B. Jackson, AJ Hartley, D.R. Perry, John Jackson Miller, Megan Mackie, Ellie Raine, Esther Friesner, Sean Fletcher, Katharine E. Wibell, Kaitlin Bevis, Isabelle Hardesty, Stacey Rourke, Mari Mancusi, Eric R. Asher, Frank Morin, Leanna Renee Hieber, Madaug Hishinuma, Wesley Chu, Bobby Nash, Howard Andrew Jones, Dennis Lee Robinson
Time: Fri 08:00 pm
Location: International South Hyatt (Length: 4 Hours)
Title: Anthology: A Buncha Great Writers Got Together…
Description: Wondering about anthologies? How to get invited into one? We're going to lead you down the pathway to writing for anthologies.
Panelists: Trisha J. Wooldridge, Esther Friesner, Jeff Burns, Nancy Knight, Jean Marie Ward, D.B. Jackson
Time: Fri 08:30 pm
Location: Embassy EF Hyatt (Length: 1 Hour)
Title: A Fan Discussion of The Last Kingdom: Seven Kings Must Die *Spoiler Alert*
Description: Seven Kings Must Die was our last look into the world of Uthred, son of Uthred, and his companions. What did you think of the movie as compared to the TV series? What excited you, or left you wanting more? Did you feel that it wrapped up things nicely? Come discuss with your fellow fans!
Panelists: Emily Myerscough(M), Corey Applegate, Cathalson, Katie Brewster, D.B. Jackson
Time: Sat 02:30 pm
Location: Macon Courtland Grand (Length: 1 Hour)
Title: How Epic is Epic?
Description: Some stories are so big they require more than one book…sometimes many more than one. These can be called epic stories. What makes a story epic? How do authors decide how many books their big story requires?
Panelists: Kevin J. Anderson, Jean Marie Ward, David Weber, D.B. Jackson, Timothy Zahn
Time: Sat 05:30 pm
Location: International South Hyatt (Length: 1 Hour)
Title: Back in Time: Historical Urban Fantasy
Description: Our panelists explore supernatural beings & magic set in historical real-world settings.
Panelists: Cherie M. Priest, Chelsea Quinn Yarbro, Marie Brennan, D.B. Jackson, Carol Malcolm(M), Aaron Michael Ritchey
Time: Sat 08:30 pm
Location: Chastain 1-2 Westin (Length: 1 Hour)
Title: Many Tongues, 1 World: Using or Creating Languages in Literature
Description: We will be pulling in authors and a linguist to discuss using and creating languages for fantasy settings. Sometimes they may pull from the real world, other times it might be making things from scratch.
Panelists: Davis Ashura, Mera Rose, Mel Todd, Kevin McLaughlin, D.B. Jackson, Alex Shvartsman
Time: Sun 01:00 pm
Location: Embassy CD Hyatt (Length: 1 Hour)
Title: 15 Minute Mentor Sessions
Description: A chance for budding authors to talk one-on-one with a successful industry professional about business, promotion, the writing process, & career advice. Sign up in the Writer's Track. (Embassy E/F)
Panelists: James Nettles, Darin Kennedy, D.B. Jackson, R.J. Blain
Time: Sun 02:30 pm
Location: Embassy G Hyatt (Length: 1 Hour)
Title: Are You a Good Witch, or a Bad Witch? Varieties & Approaches in UF
Description: Witches in Urban Fantasy run the gamut from helpful to extremely dangerous and self-serving, often in the same story. Our authors discuss their characters and the categories they fall into.
Panelists: Jennifer Blackstream, D.B. Jackson, Rachel Rawlings, Meg M Robinson, Melissa F. Olson, Carol Malcolm(M)
Time: Sun 05:30 pm
Location: Chastain 1-2 Westin (Length: 1 Hour)
Title: D.B. Jackson/David B. Coe signing booth 1201
Description: Come to the special author signing at The Missing Volume booth 1201
Panelists: D.B. Jackson/David B. Coe
Time: Mon 11:00 am
Location: Vendor Hall Floor 1 Mart2 (Length: 1 Hour)