Ideally, every new book and story we write is not just an adventure in imagination, a chance to discover new characters and settings and narratives, but also a learning opportunity. I continue to improve my writing with each project, and I try to do at least one thing new with each story or novel. For instance, while working on my short story for the Dragonesque anthology, which will be published later this year by Zombies Need Brains, I was aware that my editors (and good friends), Joshua Palmatier and S.C. Butler, both tend to cut out a few dialog tags from all the stories they edit. I was determined to make that impossible for them. And I wound up managing to write the entire story using only a single instance of "said" or "asked." Let them find something else to cut! In doing this, I actually made the story leaner, more concise, and more fun to read.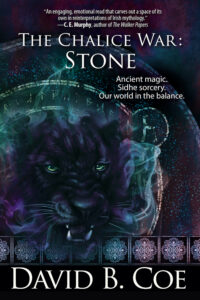 With this in mind, I thought it might be helpful to list a few things I learned, reminded myself of, and/or tried to do differently while writing my Chalice War trilogy, which debuts on Friday, May 5 (THIS FRIDAY) with the release of The Chalice War: Stone from Bell Bridge Books.
Journal about, well, everything: The first book in the Chalice War series includes a frenzied chase/trek across the U.S., and a series of climactic scenes that are set in Las Vegas. The second book is set in Australia — in Sydney, as well as in the tourist town of Kiama along the Illawarra coast. The third book is set in Ireland. I have driven across this country a few times, and I've been to all the places I just mentioned. I have driven into Vegas at night, approaching from the east, as my characters do. I have spent time along the Irish coast (although not quite the same part). I have spent a good deal of time in Kiama.
And I have journaled about all of these experiences. While writing descriptive passages for the books, I drew heavily on old journal entries (and also on my old photographs). I'll admit this is not the first time I have drawn upon personal experiences and writings for this sort of thing. When I wrote the Fearsson books, I consulted journal entries from visits to the Sonoran Desert. Whenever I write in the Thieftaker world, I draw on old entries from my college years in New England. This is not a new lesson, so much as something I was reminded of while writing the Chalice books. But the value of the point is undeniable. The more we write, the better we get, and journaling helps us keep in practice, which is reason enough to do it. But it can also be a terrific source for material that we can adapt to our fiction, be it in the form of descriptive writing, character development, or even plot points.
Dude, lighten up: My books tend to be very serious. Bad things happen all the time to good people. The fate of the world hangs in the balance again and again and again. It's kind of like Buffy's tombstone from the finale of the fifth season of Buffy The Vampire Slayer — "She saved the world. A lot." I'm not suggesting this is a bad thing. People return to my books because I keep the stakes high, and they like that.
And the stakes could not be higher in the Chalice War books. The fate of our world is balanced on a knife's edge throughout all three volumes. Serious stuff.
But people who know me know that I enjoy laughing and that I joke around a lot. And in these books, really for the first time in my career, I rely heavily on humor. I won't go so far as to call the books "light-hearted" or "romps" — the series is action-packed, and, as I say, the stakes could not be higher. Still, there is a lot in these pages that made me laugh as I wrote, and I expect the books will make my readers laugh as well. A lot.
Limit the number of POV characters: Early in my career, when I wrote my big, fat epic fantasies (The LonTobyn Chronicle, Winds of the Forelands, Blood of the Southlands), I used a vast array of point of view characters. I was writing big sweeping stories and had a cast to match. I went from those to Thieftaker and Fearsson, which both had, basically, one POV character (the first chapters of the second and third Fearsson books were written in other POVs, but then both books reverted to Jay). Noir-style mysteries, I felt, worked best when told from the perspective of the investigator. Later books (Islevale, Radiants) fell somewhere in between — more than one, but not as many as those huge stories I told early on.
With this newest trilogy, I tried something a little different. I needed more than one POV character, but I wanted to have a maximum of three in each book. And that's pretty much what I did. Chapter one of books I and II are from different POVs, but after that I have two POV characters in Stone, the first book, and three POV characters in the others.
And I like the way the novels read with limited casts of this sort. There is enough variety in the voices to propel the books forward with each POV shift, but there are few enough narrators that my readers can grow comfortable with the characters and their personalities. Obviously, every story is different, and what works with one series won't necessarily work with another, but going forward, I will look for opportunities to limit my cast of narrating characters to more manageable numbers.
I hope you will check out the new series. I really do believe you'll enjoy the books.
In the meantime, keep writing!