This Blog:
I want to say from the outset that I love maintaining this blog. I write my twice-weekly posts because I enjoy sharing my thoughts (on Mondays) and my writing tips (on Wednesdays). Writing on demand in this way is always good practice. Delving into various issues with the Musings posts often is therapeutic for me, and forcing myself to think about different craft issues on a weekly basis helps me continue to hone my own writing skills.
I will also admit, though, that maintaining the blog is time-consuming. Some weeks, the posts flow pretty easily. Other weeks, not so much. It can take me a full day to write the two essays, occasionally more than a day. That's fine, too. As we all know, writing can be like that — easy one week, excruciating the next.
To state the obvious, I am not compensated in any way for my blogging. That has been by choice, and I do not intend to place a paywall between my readers and the content on my blog. That, I fear, would change the dynamic between my blogging and reader response to my posts, which feels very organic right now. I want to keep it that way. I have thought, though, about creating a Patreon (for those unfamiliar with Patreon, it offers creators a chance to gain financial backing from subscribers) and asking people to contribute voluntarily. If every person who visited my blog and every person who subscribed to it gave just one dollar per week, that would be ample compensation.
As I say, it's something I've considered. But . . . .
My Books:
As I've already said, I maintain the blog because I enjoy doing so. But, to be perfectly honest, I also do it to bring traffic to my website. The calculus is a little convoluted, but it goes something like this: If people come to my site to read the blog, maybe they will stick around and look at the other pages. And if they look around, maybe they'll become interested in my books, and maybe they'll start buying and reading those books. As marketing strategies go, it is neither brilliant nor revolutionary, but I'm a fantasy writer, not a Madison Avenue executive, and it's the best I've got.
And so, I am a little reluctant to set up a Patreon because in a way I already ask you for a financial contribution, don't I? I make no secret of my desire for you to read my books. I write about them in my blog posts, I refer to them in my social media posts, I talk them up and even hand-sell them at the conventions I attend. If someone were to ask you, "What do you think David B. Coe wants from you?" you probably wouldn't have to think too long and hard before coming up with, "Well, I guess he would like me to buy his books when they come out."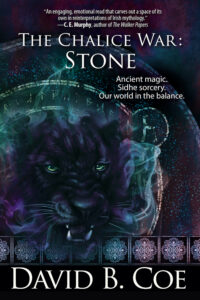 Let's back that up with a little math. I said a moment ago that, were I to start a Patreon, I would be happy with contributions of $1.00 per week, which comes to $52.00 for the year. Now, as it happens, I have the first book of a new trilogy coming out on Friday of this week, May 5th. This is The Chalice War: Stone, the first book in my new Celtic urban fantasy from Bell Bridge Books. The second book, The Chalice War: Cauldron, will be out in June, and the third book, The Chalice War: Sword, will be out soon after that. Each printed book lists for $17.95. Factor in sales tax, and the three books together would cost about $57 or $58, or about $1.12 per week. (If you read ebooks, the three together will cost a total of about $16, or $0.31 per week. What a bargain!!)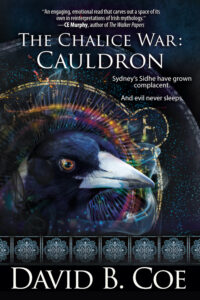 So, for about what you might give to a Patreon, you could have all the blog posts AND all three books in the new series.
And so . . . .
Your Support:
Yes, with a Patreon, most of the money goes directly to the author. When you buy our books, we authors get a much smaller share of the proceeds. And yet, most authors I know would make that trade every day of the week and twice on Sunday. Why? Because we write! Because we LOVE to write! Because we have new ideas that we are eager to write and have published!
Much that we hear about the publishing industry sounds arcane and confusing, and many of us respond to elements of the business with amazement and dismay, wondering why anyone ever chose to set up an entire sector of the economy in quite this way. But boiled down to its most basic elements, the business model is pretty straightforward. Authors write books, publishers put out those books, readers purchase and read those books. And if all goes as it should, and readers do their part, authors get to write and publish more and more books. Lather, rinse, repeat.
Which brings me, at long last, to my point. I need for you to buy my books. It really is that simple. If you like the blog — if you navigate to my page on Mondays and Wednesdays, or if you subscribe to my feed and the posts come to your inbox — you know how much I love to write. I love it so much I do it for free twice every week. But I can only do that if the books move off the shelves and I get to write and publish more of them.
Your support is vital, not just for me, but for every author whose work you care about. Stories matter. The written word matters. Today, more than ever before. All over the world and, sadly, all over our country, self-expression is under assault from those who fear ideas. All over the world, and all over our country, literature is dying a death of a thousand cuts: book bannings, apathy, the allure of gaming and television and social media. Books and authors need the passion and commitment of readers, just as readers need the passion and commitment of writers.
And, to state the obvious, authors need to make a buck. This is our passion, our obsession, our craft and art. It is also our livelihood.
So, please, enjoy my blog posts. If you've missed any recently, feel free to go back and read through the archives. And take a look around the site. Make yourself at home, and rest assured that I'll be back with another post on Wednesday, and with more in the weeks to come. But also please consider that when you buy my books, and those of other authors, you not only get those stories, you also make possible all the content we make available to you.
Thanks for reading this. Have a great week.