"Louis, I think this is the beginning of a beautiful friendship."
We all know the line. Even people who haven't seen Casablanca know the line. (And please, don't get me started about not seeing Casablanca. I mean, sure, it's dated, But it remains one of the greatest movies of all time. Humphrey Bogart, Ingrid Bergman, Claude Rains, Peter Lorre, Dooley Wilson, Paul Henreid, Conrad Veidt, and so many others. It has romance, intrigue, action, and it keeps you guessing right up to the stunning ending. See? This is why you shouldn't get me started . . .) Anyway, the line. It is one of the great bits of closing dialogue in any movie ever made.
But it's more than just clever. It is the perfect punctuation point for the film's narrative. From that line, and those that come directly before it in the last minute or so of the film, we know everything we need to about what is next for our hero, Richard Blaine. We know that he'll survive letting Ilsa go (yeah, I know: spoiler. Get over it. The movie was made, like, three centuries ago. If you haven't seen it yet, that's on you, not me). He'll go on to join the French Resistance and fight the Nazis with Louis Renault by his side. And, very likely, he and Louis will be heroes in that effort.
What's my point?
Simply this: Every story — certainly every novel — needs its own version of "Louis, I think this is the beginning of a beautiful friendship."
I'm doing a lot of editing these days, and I have seen several manuscripts that reach endings of a sort, but that fail to tie things up in a satisfying way. To be clear, I am not saying that every book needs a pat conclusion. We can leave some questions unanswered. We can hint at futures to come. My favorite fantasy novel of all time, Guy Gavriel Kay's Tigana, ends with a prophesy that suggests fates for three men, but we are left to wonder which future is tied to which character. It works.
I am also not talking about the climax of your novel. That is something different — also important, obviously, but different.
What I am suggesting here, rather, is that we need to have some closure for our lead characters, AFTER the final battle/confrontation/major plot point. We need to see those characters in the aftermath of all to which we have subjected them, and we need to see them moving on (or not), healing (or not), finding peace or contentment or new purpose (or not). Yes, the details are vague. I would never think to tell any writer how content-wise to end their book. We each have a vision of what awaits our characters and that is intensely private.
But at the very least, we need to see our main heroes grappling with what they have endured and setting their sights on what is next for them. We don't need this for every character but we need it for the key ones. Ask yourself, "whose book is this?" For me, this is sometimes quite clear. With the Thieftaker books, every story is Ethan's. And so I let my readers see Ethan settling back into life with Kannice and making a new, fragile peace with Sephira, or something like that. With other projects, though, "Whose book is this?" can be more complicated. In the Islevale books — my time travel/epic fantasy trilogy — I needed to tie off the loose ends of several plot threads: Tobias and Mara, Droë, and a few others. Each had their "Louis" moment at the end of the last book, and also some sense of closure at the ends of the first two volumes.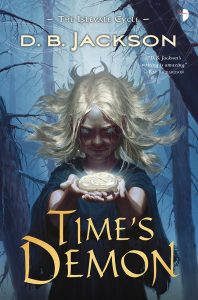 Why do I do this? Why am I suggesting you do it, too? Because while we are telling stories, our books are about more than plot, more than action and intrigue and suspense. Our books are about people. Not humans, necessarily, but people certainly. If we do our jobs as writers, our readers will be absorbed by our narratives, but more importantly, they will become attached to our characters. And they will want to see more than just the big moment when those characters prevail (or not). They will want to see a bit of what comes after.
So, I am suggesting that you decide which characters matter most to your story and therefore to your readers, and then give those characters (and your readers!!) a satisfying conclusion to their narrative and personal arcs. Let us see them post-conflict, post-finale. Give us a glimpse of what life has in store for them next. They have been our friends and companions for hundreds of pages. Maybe thousands. And while we can reread the story you're finishing, the fact is we're saying goodbye to them. We may never encounter them again. Or maybe we will, in which case you can hint at that. But we need . . . something.
J.R.R. Tolkien did not end The Lord of the Rings with the battle in front of the gates of Mordor. He didn't end it with the scouring of the Shire, or even with Frodo and Bilbo sailing to the Grey Havens. He ended it with Sam returning home after bidding farewell to Frodo and saying, "Well, I'm back." Because that is the point of the story: Our heroes may be leaving these shores, Aragorn may be king far, far away and Legolas and Gimli may be back with their people, but the Shire and Middle Earth endure and go on. And Sam is the best character to make that point.
Mastering the use of that sort of story punctuation is a key element of effective storytelling. I recommend you work on it.
Keep writing!