We are in the midst of a rainy-soon-to-be-snowy weekend here, and I am thinking about my Monday Musings post, looking for something fun and cheery to write about. There are always world issues to address, and I have been up front about emotional matters in recent months. But the truth is, I am tired of being Mr. Serious-Guy. So for today, something completely different.
I've thought of writing posts about a few of my favorite things (cue Sound of Music soundtrack), but none of them would actually fill a full post. Well, most wouldn't. But how about a list of my favorite things from random categories? Kind of a Favorite Things Lightning Round. Sound fun? Here we go:
Favorite Single Malt Scotch: Starting with the hootch! Yeah, I love single malt, and we have several different kinds. I sometimes enjoy a peaty Scotch, and will also drink some specialty Scotches aged in port or rum casks (Balvenie has a great one, as does Glenmorangie). But mostly I like Speysides, which tend to be less smoky and somewhat sweeter. For my money, the best of these is the Dalwhinnie 15 year-old "Highland" Scotch. They call it a Highland, but it is technically a Speyside, and it is just lovely. I drink it neat, with just a splash of cool water. In fact, I'm feeling a little parched right now…
Favorite Jazz Album: This one is easy, and I'm really not going out on a limb at all. Miles Davis's 1959 classic Kind of Blue, is an entry point for many who are just getting into jazz, and it was exactly that for me some 40+ years ago. Thing is, this is an album of which I never tire. Each time I listen to it I love it more. By turns haunting, toe-tapping, introspective, and dynamic, it features a who's who of jazz superstars: Davis on trumpet, John Coltrane and Cannonball Adderley on saxophone, Bill Evans and Wynton Kelly on piano, Paul Chambers on bass, and Jimmy Cobb on drums. It is brilliant. If you've always wanted to listen to jazz, but didn't know where to start, this is your answer.
Favorite Jazz Album You've Never Heard Of: This one is a little harder, but I have to go with Sphere's Flight Plan. Sphere is a jazz quartet that originally included Kenny Barron on piano, Charlie Rouse on saxophone, Buster Williams on bass, and Ben Riley on drums. They released Flight Plan, their second album, in 1983. It has since gone out of print, and is very hard to find. But my God, it is SO good. Like Kind of Blue, it covers a range of moods, but it is consistently excellent and utterly addictive.
Favorite Sport to Watch: I'm a lifetime baseball fan, and I still count baseball as my favorite sport, though mostly for sentimental reasons. A great baseball game remains a joy-inducing treat, and I love watching games live, at spring training venues or at the nearby Double A stadium in Chattanooga. But the truth is, today's iteration of baseball bugs the hell out of me. Too many strikeouts and home runs, not enough nuance and strategy. Few games, even during the postseason, rise to the level of "great." Which is why my favorite sport to watch is now soccer, specifically Premier League soccer on Saturday and Sunday mornings. Nancy and I watch a lot of soccer. It is a beautiful sport to watch. It has nearly nonstop action, and demands tremendous athleticism of its players, but it is also precise, thoughtful, steeped in strategy, and mindful of both defense and offense. Nancy roots for Tottenham. I root for Chelsea.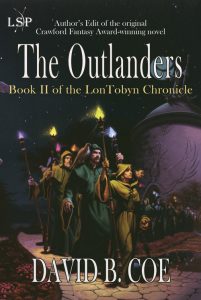 Favorite of My Books: The most recent one I've written, almost always. Which is a copout, I know. Invasives, the second Radiants book, comes out in February, so it is the most recent I've written, and it is my current favorite. But in another way, my favorite is probably The Outlanders, the second book in my LonTobyn Chronicle, and my second novel overall. Why? Simple. When I began my career, I knew I had one book in me, but I didn't know if I could write for a living. Upon finishing The Outlanders, I realized it was better than my first book, Children of Amarid, a book of which I was quite proud. It was much better, in fact. And I understood then that I was not just a guy who wrote a book. I was an author. I could make a career of this.
Favorite Bird: I've seen close to a thousand species of bird worldwide, and I love so many of them. But one bird is what my brother Jim, who got me into birding in the first place, calls my trigger bird, the one that made me fall in love with bird watching. As it happens, he and I have the same trigger bird. Canada Warbler. Google it. I'll wait… Beautiful, right? Sure, there are others that are even more striking, more majestic, fiercer, cooler. Whatever. This is the one that opened up the world of birds to me. I see it nearly every spring during migration. And each time the sighting leaves me smiling for the rest of the day.
Favorite TV Show We're Binging Right Now: You have to understand, Nancy and I only got decent internet — decent enough to stream — about six months ago. So we are new to the binging thing and we love it. We are currently in the middle of The Great British Baking Show, The Crown, Madame Secretary, and our favorite, The Marvelous Mrs. Maisel. It's funny and smart, the performances are excellent, and the writing is great. What's not to love?
Favorite of My Photos: This is a hard one — even harder than choosing my favorite of my books, if for no other reason than sheer numbers: I've written about 26 books. I've taken thousands of photos. And as with my books, my favorite photo changes as I capture new images and add them to my collection. But one in particular has stood out for some time now, because with it I accomplished in a technical sense precisely what I wanted to. The photo is a macro shot of a single drop of water hanging from a Bloodroot leaf. And it works because I managed to position the drop in the optimal spot in the image, and I got the depth of field (the balance between what is in focus and what is blurred) just right. Here it is (click on the image for a larger version). Enjoy!
I might return to this "Favorites" theme again this year. I have lots of possible categories left.
For now, though, have a great week!