About a month ago, Nancy and I decided that we had been watching too much television during our evenings together, and that we needed something else to pass the time in this age of Covid and a world gone mad.
If you're my friend on Facebook, you might have seen my post asking for advice on fun games we might play. We had a lot of recommendations, all of them helpful, some of them quite amusing. We had in mind something cooperative and immersive, and after a bunch of searching, and reading reviews and descriptions on line, we settled on Gloomhaven: Jaws of the Lion. This is part of the Gloomhaven family of games from Cephalofair Games, but it is both easier to learn and far less expensive than the full Gloomhaven.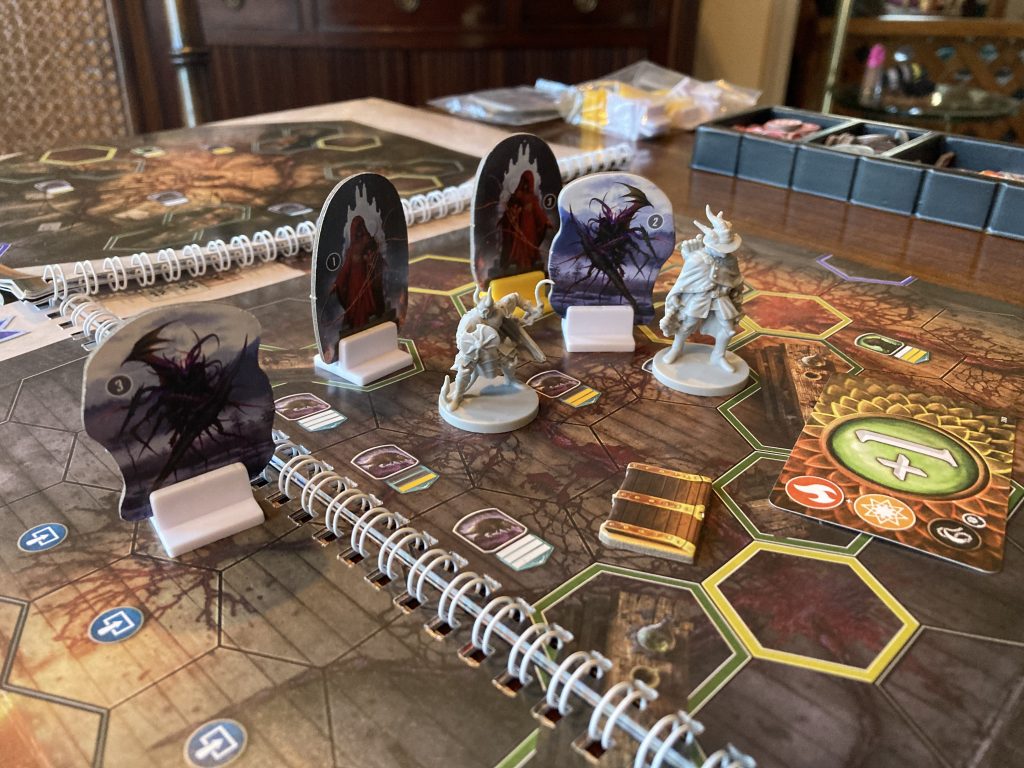 We received the game about three weeks ago, and have been playing more and more in the days since. Even with the parameters streamlined and simplified from Gloomhaven, Jaws of the Lion is very complicated. Our first night with the game all we did was read instructions, sort the pieces and cards, and get acquainted with the broad outlines of play and process. The game is played out over a couple of dozen scenarios, one more complex and difficult than the last. We battle monsters, seek treasure, solve problems, and explore this imaginative world, all the while working together rather than in competition.
Those who have played Dungeons and Dragons will find much in the game that feels familiar. It's basically a board game built around the concept of D&D. I was never a gamer — I came to fantasy through fiction rather than gaming — and so this is all fairly new to me. The same is true for Nancy.
There are four characters in the game, each with unique talents and abilities, weaknesses and strengths. Obviously, since it's just the two of us, we're only using two of the four, and already we're planning to finish this campaign and then start over using the other two characters. After that, we might start again, with her playing one of my characters and me playing one of hers. Each iteration of the game will be different, even if the initial set-ups for each scenario are the same.
Generally we play in the evenings, while sipping wine or whisky. Early on, we completed a scenario, or most of one, in a single night. We're only on scenario six now, but already we know that we won't be finishing our future scenarios so quickly. That's fine. We spend a lot of time laughing, a LOT of time discussing strategy. Sometimes, in the middle of cooking dinner, one of us will suddenly have a thought about how we might handle an upcoming battle, or what new magical items we ought to get the next time our characters earn some gold. We're having a lot of fun.
Gloomhaven may or may not be your thing. Frankly, it doesn't matter. We could just as easily have chosen some other game, or decided to read a book to each other (something we've done before), or even found a new television series to binge. The important thing, of course, is the time together, the companionship. Nancy works hard, and despite the jokes I sometimes make about the leisurely life of the writer, I do, too. Our weeks are full, our weekday evenings a bit too rushed. So on weekends, we make time for each other: for walks, for watching a bit of Sunday morning soccer, for cooking fun meals and making the occasional interesting cocktail. And yes, for going to an imaginary world to fight monsters and find treasure.
Wishing you a wonderful week!