The Chalice War: Sword will be published on August 4, one week from today, and so as you did last week, you get to enjoy a lengthy excerpt from the book, another teaser to whet your appetite for the third book in my Celtic urban fantasy trilogy! Have fun!!
***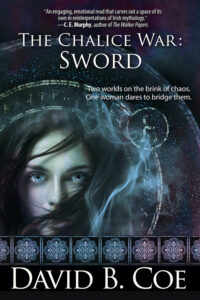 Hanging out with magical beings, Kel had decided some time ago, reminded her of being in middle school and trying to keep up with her cool, athletic friends. She was always lagging behind, struggling to do at all what her friends could do with ease.
The wall protecting the Knowth heritage site had to be eight feet high, and while she had little doubt Marti and Carrie would scale it with little effort, Kel didn't think she could get over it. And she wondered what Carrie intended to do with her fearsome conduit. Kel was a cat person. Dingos—even reformed Dingos like Orla—terrified her.
They stood in silence for some time as the sky darkened and crickets serenaded them. No one passed them on the walking path, not so late in the evening. They were alone. For now.
Marti checked the clock on her phone for the tenth or twelfth time since Riann's departure. Carrie whispered something to the dog and kissed its massive head.
Kel eyed the wall. "I'm never going to make it over."
"I didn't realize you'd tried already," Marti said, her tone breezy.
Being Marti's conduit was a bit like living with the world's worst life coach. Encouragement through snark.
"I'm not a climber," she said. "I don't like heights. This surprises you?"
Kel had struggled with anxiety of one sort or another for most of her life. She really didn't like heights. Or brushes with authority. Or the mere thought of treating with ghosts or undead spirits or whatever the hell this guy Lugh was.
She was learning to control the worst symptoms of her anxiety disorder. Coming to terms over the past year with the fact that she possessed power, that she not only could become a conduit for a Sidhe sorcerer but could make a material difference in a magical battle for the future of her world and the protection of humanity, had allowed her to confront her mental health issues as never before. The truth was, Marti had been enormously helpful in this regard, bolstering her self-esteem as they trained together to increase her capacity to fuel the Sidhe's spells. But there was no real cure for general anxiety disorder or panic disorder, both of which afflicted her. She could control her anxieties, but not banish them entirely. And climbing stone walls? Dodging security in sacred Celtic landmarks? Still not for her.
"When was the last time you tried to climb anything?" Marti asked. "I've never seen you do it. And since in my experience everything you try to do you succeed at, I'm going to assume you can climb. That is, until you prove me wrong."
Okay, maybe not such a bad life coach.
"I have no idea how we're going to get Orla over," Carrie said in her rich Australian accent. "She really doesn't climb."
Marti regarded the dog and then the wall. "It would help things quite a bit if you could develop a talent for levitation magic."
Carrie grinned. "Yes, so I've gathered. I'm working on it."
"Will she stay here if you climb over?"
"I expect so. But obviously I won't have access to her power."
"You shouldn't need it. But we will need every pair of eyes on the grounds." Marti glanced at her phone again. "Riann should be in position by now, and I don't want to wait any longer."
Marti climbed over first, leaving Carrie to help Kel up. Kel surprised herself, as Marti had known she would. Carrie offered to boost her, but the problem wasn't physical—she could get herself over. The problem was psychological. And as it happened, she got over that, too. Within moments she had pulled herself up, swung her legs over, and climbed down the other side. Seconds later, Carrie dropped down beside her, silent and solid.
Orla gave a low whine from the other side, and the women winced.
"I hope she quiets down," Carrie whispered.
Marti scanned the grounds. "Let's make this quick in case she doesn't."
They set out through a fringe of forest before emerging into a shorn field. As soon as they were in the open, Kel stopped again, frozen and struck dumb by the scene before her. The moon hung just over the eastern horizon, orange and full and so huge she could barely comprehend it, as if the gods had dragged it closer to the earth just for this night. Beyond the first field and a second smaller one, stood several huge, grass-covered mounds. The central one was the largest by far, but all of them pulsed with power, carrying within them the weight of centuries. A light wind stirred the grasses, and the gossamer touch of moonlight made them glow as though lit from within.
Carrie and Marti had halted, too.
"Holy shit," Carrie said, breathless, speaking for all of them. Wind touched the woman's short, dark hair, and moonlight accented her high cheekbones, her square, handsome features.
Usually, even in a place like this, Marti would have tried to lighten the mood with a joke of some sort. Not this night.
"Let's get this done," was all she said.
They strode on, covering the distance to the huge central mound in awed silence. Marti made her way to a gravel trail that led to the top of the mound, but Kel and Carrie paused to examine the huge stones encircling the base of each grass structure. All were carved with ancient symbols and runes. Again, Kel was struck by the nearly oppressive force of history in this place, by the raw power that seemed to flow from the ground beneath them.
"Come on," Marti called from the path. She glanced around, a frown creasing her brow. "I don't want to be here when it's fully dark."
"Moon like that," Carrie said, tipping her head eastward, "it won't be dark tonight."
"You know what I mean."
They joined her on the trail and together they climbed the mound. By the time they reached the top and the ruins of the structures that once stood there, Kel was winded. Even Carrie was breathing hard, her cheeks pink.
Kel turned a full circle, taking in the vista, and stopping when she faced that incredible moon. "Are you sure this is where we're supposed to be?"
Marti gazed eastward. "As opposed to . . . ?"
"I don't know. The tomb, or one of the smaller mounds."
Marti shoved her hands in her jean pockets, another gust of wind ruffling her hair. "Honestly, no. I'm not sure of anything. But I think this is all hallowed ground. If we summon him here, he'll come here."
"Will he be able to see us?" Carrie asked. "We're still spelled, right?"
 "We should be. As to what he can see—" Marti's shrug was eloquent. "Let's find out."
Marti set her feet, still facing the moon, and Carrie and Kel backed away from her, positioning themselves so that the three of them were equal points on a triangle. Marti raised her arms, tipped her face toward the moon, and closed her eyes. She looked beautiful, as always, but small atop the mound, with the Irish countryside stretching away in every direction.
"Lugh, Shining One, bearer of the Spear, bane of Baelor, I summon thee. Awake from your slumber, venture forth from your resting place, join me on this holy ground. I seek counsel, I foreswear trickery, I swear allegiance to your ancient cause. Heed my call and come!"
Her voice sounded weak amid the wind and whispering grass. Kel had heard her call for gods and ancients in the past; this summons, she thought, lacked power and reach. She hoped this was just a function of their location, and not some indication of what would result.
Carrie sidled closer to Kel. "I've seen Riann summon gods and living spirits but never a ghost. Will this summons work the same way?"
Kel regarded Marti, who stood motionless, her arms held high, her eyes closed. "Marti seems to think so," she said, her voice low. "She didn't draw on my power at all. It had better work, because I don't think she knows any other way to get Lugh's attention."
They shared a pointed glance before Carrie reassumed her spot in the triangle. Still nothing happened — no change in the wind or the light, no sounds other than the susurration of the grass. Carrie and Kel shared another glance, and Carrie quirked an eyebrow. Kel shook her head.
Voices drew their gazes to the site entrance. Two uniformed security men entered the grounds, watchful and grim-faced. Kel didn't think they were armed; back in the States they would be, but not here. Still, she and Carrie followed the men with their gazes as they circled the grounds and then climbed to the top of the same mound. Closer up, she could see that one of the men was older, sandy hair generously sprinkled with silver. The younger man was tall and brawny but clearly less sure of himself. They walked around the ruins, passing within just a few feet of the three women. Marti remained as she had been, oblivious, rapt in supplication. Carrie appeared as nervous as the younger guard.
As the two men completed their orbit of the top, a glowing figure appeared before Marti.
Carrie let out a small gasp. Kel managed to check herself before doing the same. Marti opened her eyes and lowered her arms. She eyed the gleaming man, then cast wary glances at the guards.
The man—the wraith?—was tall and lean, clad in a tunic of mail and dun cloth leggings. His hair, a pale, reddish gold, flowed to his shoulders; his face was chiseled and lean. He was, frankly, completely gorgeous. His eyes burned bright, like embers in a fire. And he held a spear loosely in his right hand. The Spear, Kel realized, her mouth going dry. The Spear of Lugh, which was said to make armies invincible. A sword hung from the other side of his belt, as did a slingshot; she wondered why he would need any weapons besides the Spear.
At first, the guards didn't seem to notice him, and they started back down the gravel path off the mound. But as they walked away, the younger man glanced back.
"Holy shit!"
Both men stopped. The young guard pointed at the ghost, his hand shaking.
"You see that, right?"
The older man nodded.
Lugh leered and gripped the spear with both hands, brandishing it threateningly.
"Let's get the fuck out of here," the older guard said. Both of them hurried away. They peered back repeatedly, and Lugh stepped to the edge of the ruins, where he could be seen from below. Sooner than Kel would have thought possible, the guards were out the main gate. She heard car doors slam, the rev of an engine, and the squeal of tires.
Lugh rounded on them, still grinning. "That was fun!" His voice was higher than Kel expected, his brogue nearly impenetrable, his words thin and stretched, as though they came from a great distance. "What can I do for you lasses?" He sauntered toward Kel, his brilliant gaze raking over her boldly and lingering on her breasts.
Her cheeks burned. Of course, the one exquisite man who preferred her to Marti was three thousand years dead.
"We need your help," Marti said.
He continued to ogle Kel. "So I gathered."
"The Fomhoire have Nuadu's Sword."
At that, he whirled. "What?"
"I take it we have your attention now."
"How did this happen? Who gave it to them?"
"No one gave it to them. They took it. They've been opening portals from the Underrealm, attacking us where we're weakest. The wars you fought never really ended, and now they have the advantage."
"The Spear is safe?"
"For the moment."
"Where is it?"
Marti shook her head. "I have no idea. Which is as it should be."
"What of the Stone and the Cauldron?"
"They're safe but only just. Lives were lost protecting them."
"You know where they are?"
"I do. I won't tell you."
The warrior hesitated, nodded. "Yes. Very well." He pivoted back to Kel, his expression less lustful but every bit as intense as it had been earlier. He opened his free hand, lifted and dropped his broad shoulders. "What is there that I can do for you? I cannot fight." He regarded with a scowl the glowing spear in his hand. "This . . . thing . . . is no more substantial than I am. It is useless. One might argue that I am as well."
"You're not useless at all," Marti said. "You could be incredibly important to our people. Again. You've defeated Baelor once, and more to the point, you are a creature of both the mounds and the Underrealm. You are both Sidhe and Fomhoire."
The warrior rounded on her. "That is a lie!" His voice shook the ground on which they stood. He pounded the butt of his spear on the dirt, and the earth trembled a second time.
Carrie and Kel shared another anxious look. Marti appeared unconcerned. Wind lifted her raven hair, and moonlight made her face almost as luminous as Lugh's.
"You done with the tantrum? Or do you want to fuss a bit more?"
"I am of the Tuatha Dé Danann! The Fomorians and I are enemies sworn! I am Lugh of the Long Arm! Wielder of the Spear! Slayer of Baelor!"
"Baelor lives. He slumbers most of the time, but he lives. What's more, I'd guess you knew that already. So what is this really about?"
He lifted his chin and glowered. "Release me!" To Kel he said, "I wish we had more time, you and I. But your companion is as rude as she is brazen. If all she brings are insults and lies and accusations, I will not treat with her further."
"Shall I summon Buach, or Nás, or Deichtine, or one of your other wives?" Marti said. "Shall I ask them what they know of your heritage? Shall I summon your Fomhoire mother?"
His glare deepened, but he hunched his shoulders, saying nothing.
"Don't you see?" Marti said. She might have been speaking to a sulky child. "This is why we need you. This is what makes you so valuable to us. We're going to retrieve the Sword, and we need to know how to get into the Underrealm. You can help us with that."
"It would be madness for a Sidhe to enter the Underrealm. You will be found before you can walk a hundred paces. They will torture you for a millennium, kill you for the pleasure of it, and dance around your corpses drinking demon whisky." He glared at each of them, daring them to argue.
"I'm not Sidhe," Carrie said mildly. "I'm Fomhoire. Like you, I gather. And I'm the one going down there."
He pressed his lips into a hard line.
"We didn't come here to accuse you of anything or to besmirch your name or even to coerce you into helping us." Marti walked a few paces, planting herself in his line of sight. "We came to ask your help. You're the greatest of Sidhe heroes, and it really doesn't matter to me who your parents were. You possess knowledge that we need. And I summoned you hoping you would share it with us. I honestly had no idea you would react as you did when I mentioned your Fomhoire heritage."
"It is my shame." He kept his voice so low that at first Kel didn't understand what he'd said.
Marti shook her head and smiled. "It is not. You're still celebrated in Sidhe history, in the history of all Ireland. None speak of this as a cause for shame. Please believe me. Us." She nodded encouragement to Kel.
"She's right," Kel said. "Since I became a conduit, I've read many histories of the Tuatha Dé Danann. In all of them, you're described as a hero, as the hero of the Sidhe."
The warrior straightened. He even managed a faint smile. "My thanks." He eyed Carrie again. "I would not have thought you a Fomorian."
"Because I have two eyes, you mean?"
"Because you are beautiful."
Her cheeks pinked. "Well . . . trust me, I am. At least enough that I can enter the Underrealm, retrieve the Sword, and come back here. But we need to know how and where to create a portal."
 "You will need to go to Toraigh, to the Dún Bhaloir at the very east end of the isle."
"Toraigh," Marti repeated. "Tory Island."
Lugh nodded. "Aye, just so."
"And the place there—"
"Dún Bhaloir."
Kel pulled out her phone and typed in the name. Seeing what her search produced she looked up at Carrie and then at Marti. "Baelor's Fortress."
"Aye," he said again. "What is left of it. For the Fomorians, it is the most powerful place in your world. If you cannot open a pathway to the Underrealm from there, you cannot do it at all. You should be there on the night of the new moon. That is when you are most likely to succeed. Use torches—none of your modern contraptions. And bring food."
Kel and her companions exchanged glances.
"Because we'll need to make an offering?" Carrie asked.
"No. Because food in the Underrealm is disgusting. They are demons. They do not eat as we do." He frowned again. "Did."
"All right," Marti said, her tone unnaturally bright. "Is there anything else we need to know?"
The ghost nodded, grave again. "Cichol's lair in the Underrealm is a maze of stone and shadow, and it is well-guarded. Souls are lost there, bewildered for all time by the labyrinth or killed by demons. Even your Fomorian here will need a guide."
"Are you offering to accompany her?"
"I am not. I cannot. I can only manifest in certain places, none of which can be found in the Underrealm. No, you will need another to guide you."
For several seconds, none of them spoke. Until at last Marti ran a rigid hand through her hair and said, "Well, crap."