This post is not about my daughters. I swear. I love my girls exactly the same amount. Except maybe around my birthday, when my love for them is directly proportional to the quality of the presents they give me. Other than that, though, I don't play favorites.
Today, I am writing about my other babies. My books.
I am asked quite often if I have a favorite among the books or series I've written, and always I deflect a bit. I make a joke about how my books are like my children and asking me to choose among them is akin to asking me which of my kids I love most. Then I say something about how, generally speaking, my favorite book is my newest book. And there is some truth to that. I am still learning, still honing my skills as a storyteller and a writer. I believe my books continue to improve.
It is also true, though, that I do have favorites. Probably not one overall favorite in particular (although I do have a candidate for that — more later!) but there are certain books that I love more than some of the others. To be clear, I am proud of all my books. I like them all. Otherwise I wouldn't have written them. But yeah, I have favorites.
I've been thinking of this a lot recently because I am in the process — finally! — of reissuing my Winds of the Forelands series, which has been out of print for several years. The books are currently being scanned digitally (they are old enough that I never had digital files of the final — copy edited and proofed — versions of the books) and once that process is done, I will edit and polish them and find some way to put them out into the world again.
I have always viewed the Forelands series as the most important project of my career. I've done better work since, but Winds of the Forelands marked a huge step forward from my first series, the LonTobyn Chronicle. The Forelands books proved to me (and to my publisher) that I could not only come up with another world, another narrative, another set of characters, but I could do all of those things with greater creativity and to greater effect than I had with the first series. For that reason alone, Winds of the Forelands is among my favorites of all the series I've written.
I should pause here to say again that I love all my books and I am deeply proud of lots of the books fans of my work like best. The Thieftaker books, for instance — I love writing them, I look forward to writing more of them. I think the concept for the series is clearly the best I've ever developed; there's a reason those are my most popular stories. There's also a reason why I've written more books (6) and more short stories (at least 12) in that world than in any other.
That said, the books that tend to be my favorites are ones that have special emotional resonance for me. My choices in this regard have almost nothing to do with sales or critical success and everything to do with my attachment to the characters and the worlds, or in a couple of cases, with what was happening in my private life when I wrote the books. I would even go so far as to say that I love some books precisely because they have not done as well commercially as others. It's as if I am compensating in a way, giving them extra love to make up for the fact that they failed to garner the attention I believe they deserve.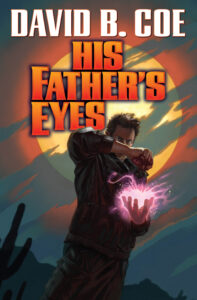 I feel that way about the second and third books in my Case Files of Justis Fearsson series, His Father's Eyes and Shadow's Blade. These books are easily as good as the best Thieftaker books, but the Fearsson series, for whatever reason, never took off the way Thieftaker did. Hence, few people know about the Fearsson books, and it's a shame, because these two volumes especially include some of the best writing I've ever done.
Same with the Islevale Cycle trilogy. Time's Children is the best reviewed book I've written, and Time's Demon and Time's Assassin build on the work I did in that first volume. But the books did poorly commercially because the series got lost in a complete reshuffling of the management and staffing of the company that published the first two installments. The series died before it ever had a chance to succeed. Which is a shame, because the world building I did for Islevale is my best by a country mile, and the plotting is the most ambitious and complex I ever attempted. Those three novels are certainly among my very favorites.
But of all the novels I have published thus far, my favorite is Invasives, the second Radiants book. As I have mentioned here before, Invasives saved me. This was the book I was writing when our older daughter received her cancer diagnosis. I briefly shelved the project, thinking I couldn't possible write while in the midst of that crisis. I soon realized, however, that I HAD to write, that writing would keep me centered and sane. I believe pouring all my emotional energy into the book explains why Invasives contains far and away the best character work I have ever done. It's also paced better than any book I've written. It is simply my best.
So far.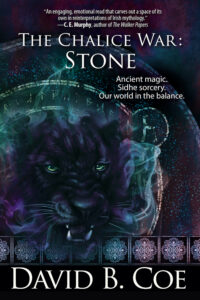 Next month, I will release the first volume of The Chalice War trilogy, my Celtic urban fantasy. This is a different sort of book for me, a different sort of series. As usual with a new release, I love the book and I am excited to get it into the hands of my readers.
Do I think it's my best? Honestly, it's too early to say. It has more humor than anything I've ever written, and I'm very proud of the way I have adapted Celtic lore to our modern world. Plus, I love my characters. So yeah, I love it. Do I love it most? Time will tell.
Have a great week!