Continuing the "My Best Mistakes" series of blog posts . . . .
Very early in my career, when my first book, Children of Amarid, was the only one I had out, I responded publicly to a online review from a less-than-delighted reader. Amazon was still a novelty (no pun intended) as was the notion of online reader reviews. (Hard to imagine, right? That the idea of readers offering reviews of the books they'd read should have been new and different and even a bit odd?) I don't remember what the reader in question objected to about the book, nor do I remember what I said in my public response. The original book is out of print now — only the 2016 reissues are available on the site, so our exchange is lost to the ages. All I know is that someone criticized the book, I didn't take the criticism well, and I took it upon myself to write a reply and post it to the Children of Amarid Amazon page.
But that's not quite what this post is about.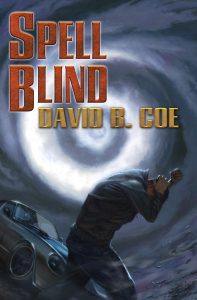 Some years later, soon after the release of Spell Blind, the first book in The Case Files of Justis Fearsson, another Amazon reviewer panned the book because my book was "a blatant rip-off" of Jim Butcher's Harry Dresden books, "a ludicrous case of copycatting." For the record, I didn't copy Dresden at all. I had only read the first two books of the series, and the "copycatting" the reviewer claimed I'd done amounted to using tropes of the genre, not elements of Butcher's work. And so I responded to the review, wanting to set the record straight.
But that's not quite what this post is about.
At this point, you might have sensed that I have a problem. There are writers out there, I know, who couldn't care less about bad reviews of any sort. Clearly I am not one of them. It's not that I'm thin-skinned. Well, not really. If people don't like my books, so be it. I write for me, because I understand that we can never please every reader. Even if ninety-nine readers out of a hundred love our book, there will always be that one reader for whom something just doesn't work — the characters or the setting or the magic or the prose. Something.
My problem, and I know I am not alone in this regard, is that I can get all those nice reviews, but the one on which I'll fixate, the one I'll remember, is the lone bad one. I think it's tied to imposter syndrome, and to every other insecurity I have as a writer. And as I say, I know I'm not the only professional who is like this. Certainly, when I see a review that misrepresents my work, or impugns my professional integrity, I can't help but obsess over it a little. That's what happened with both of the examples I've already cited.
That's what happened with another book in another series, which was reviewed in a fairly high profile publication. As it happens, this third review was mostly positive. The reviewer liked the book. But they also said something about the book, a mild criticism, that I felt was simply untrue. I didn't respond publicly. I sent the author of the review a private message, thanking them for their kind words about the book, but pointing out that they had gotten it wrong in this one regard.
Why did I do this?
Because I'm an idiot. Because despite my protestations before, I AM thin-skinned about my books. I take editorial feedback really well, but I respond terribly to public criticisms that I feel are unjust or inaccurate. To my mind, reviewers — professional reviewers, those who merely comment on bookseller sites, and all in between — ought to keep in mind that their words can have an impact on people's livelihoods. If they have legitimate criticisms, so be it. But they need to take care to get their facts straight. Okay, off my soap-box.
Where was I? Oh, right. I sent a private message to the reviewer. I never heard back from this person. But they reviewed my next book, and they took their revenge. Publicly. Brutally. Cruelly. Their review of that next book was one of the most humiliating things that has ever happened to me in my career. It was unfair. It was relentless. It misrepresented the book. The review left me heartbroken, because I loved the book. Still do. And I am certain this review came about as a direct result of that message I sent after the first review. It was my fault. True, the reviewer didn't have to take their revenge in the way they did, but still, I should have known better.
Because writers are told again and again never to respond to reviews. Most people will tell writers that they shouldn't even read their reviews. Clearly, I have struggled throughout my career to follow both these bits of advice. In fairness, I have finally gotten better about all of this. I do not respond to reviews anymore. I rarely read them. But as mistakes go, this was a big one, and it is one I've made too often.
Don't do what I did. Write your book and move on to the next. Promote the hell out of every publication. Pay attention to your sales numbers. Don't worry about your reviews. Don't go to your Amazon pages and scroll through the ratings. If you have to read your journal reviews, so be it. Who am I to criticize? But don't obsess over them. Don't fixate on the negative phrases. And for God's sake, don't respond to them.
And if you can do all that, you're a better person than I am.
Keep writing.