As I discussed at length in last week's Professional Wednesday post, I have recently completed a first draft of the third book in my contemporary Celtic urban fantasy, The Chalice Wars. The novel needs to sit for a while before I can do a final revise-and-polish and send it off to my editor — six weeks or so, I would think. And since the first book has not yet been copyedited and proofed, since the second book still needs to go through a round of revisions and then the entire production process, and since the third book is still wet behind the ears, I have plenty of work left to do on this series.
Thanks to the successful Kickstarter campaign Zombies Need Brains ran late in the summer, I also have a new anthology, Artifice and Craft, to co-edit with my good friend Edmund Schubert. We already have more than 150 submissions for the anthology, so that work is bound to keep me busy through the end of the year and well into 2023. I also have a short story to write for one of the other anthologies, and I have editing clients in my free-lance business queue.
But beyond the short story, which should only take me a week or two to complete, I have no idea what I am going to write next. None.
Yes, I have ideas. Many.
What are they? Funny you should ask.
One idea is to write my next Thieftaker novel, either in the form of a trio of novellas, like I did with The Loyalist Witch, or as a simple novel. In the Thieftaker novel timeline, the Revolutionary War hasn't even started yet. There is lots and lots more I can do with Ethan and Kannice and Sephira.
I have also considered going back to the Case Files of Justis Fearsson series, another contemporary urban fantasy that I began in the mid 2010s with Spell Blind, His Father's Eyes, and Shadow's Blade. I LOVE these books and have missed writing in Justis Fearsson's world. I have several ideas brewing for that world.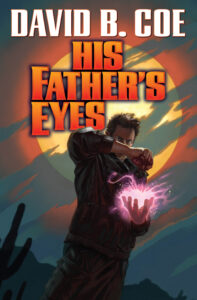 I have long wanted to return to my five book Winds of the Forelands series and the Blood of the Southlands trilogy, to revise and re-release those eight novels. They are among my best stories, and they have been out of print for far too long. I envision an "Author's Edit" re-issue, along the lines of what I did with the LonTobyn Chronicle back in 2016.
I want to write at least one more Radiants book. Actually, I would like to write several more. Radiants and Invasives are, to my mind, the two best books I've written to date, and I still would love to see these books gain come commercial traction so that I can justify writing more of them.
And then there are the new ideas . . .
I have one idea for a space opera series (yes, you read that right), set on a pair of terraformed planets. The plot involves intrigue, mystery, romance, and vengeance, and it is actually based on the work of a well-known, much-beloved, and for-now-secret 19th century novelist. I'm excited about this one. (Actually, I'm excited about all these ideas, which is why I'm considering them in the first place.)
I have a middle grade novel that I first wrote back in 2010 or so, when my kids were much younger. The idea still sings to me, though I know the book needs a good deal of work. But I love the concept and I adore the characters. And I think I would enjoy writing for kids.
My good friend A.J. Hartley has been trying for years to get me to write a non-fantasy, non-supernatural, straight-ahead thriller. He thinks I'd enjoy it. He thinks I'd be good at it. And I will admit I have some ideas percolating along these lines as well. Of all the projects I'm thinking about, this one probably has the most commercial potential, which is not the only consideration, but I do this for a living, so . . . .
And finally, I have considered taking all the Professional Wednesday and Writing Wednesday posts I have written since 2020 and collecting the best of them in a new writing how-to book. I have more than enough material, and I think some people would like to see the advice I have offered gathered in a single, convenient volume.
So there we are. Those are the things I'm thinking about right now. (I should add that I can't guarantee I won't have five more ideas tomorrow.)
What ideas appeal to you? Feel free to Tweet at me, or to comment in my Facebook Group! I look forward to hearing your thoughts.
In the meantime, keep writing!