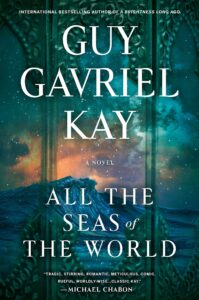 After publishing my review of Guy Gavriel Kay's marvelous new book, All the Seas of the World (coming from Viking Press on May 17), the good people at Black Gate Magazine approached me about writing more reviews for them, something I am excited to do. So, going forward, in addition to being an author and editor, I will also be a reviewer.
In my discussions with the wonderful John O'Neill, Black Gate's award-winning editor, I made it clear that I would write honest reviews on a spectrum ranging from "this is a pretty good book" to "this is the finest book I've ever read." But I would not write any negative reviews. John agreed, telling me this was just the approach he was after. And yet to many, that might seem like an odd approach to reviewing books, and so I feel it's a position that bears explaining.
I believe reviews are most valuable when they point readers in the direction of something they might enjoy. I understand there are certain publications — Publisher's Weekly and Kirkus Reviews come to mind — that are expected to review a wide range of books and distinguish the good from the bad. By necessity, such venues have to give some negative reviews. Indeed, early in my career I was on the receiving end of several such critiques. It's part of the business. In a sense, with publications like those, the bad reviews actually lend legitimacy and weight to the good ones.
Black Gate Magazine, and other journals of its kind, are not like that. They do not review comprehensively. They pick out a few books in the genre and shine a spotlight on them. In effect, they say, "Hey, fantasy readers! Here are a couple of books you should check out, not to the exclusion of others necessarily, but simply because they are particularly good." For a venue like Black Gate, writing and publishing a negative review would be gratuitous. It would be an act of singling out one book for disparagement and ridicule.
As I said to John during our discussion, I have no interest in hurting someone's career. If he and his staff send me a book to review and I don't like it, we will simply keep that opinion to ourselves. There's no need to pan it; we just won't be recommending it. Because the fact is, just because I don't like a novel, that doesn't mean it's bad. I'm only one reader. My not liking a book simply means . . . I didn't like it. Period. Full stop.
I feel quite strongly about this, because I have been on the receiving end of a gratuitously scathing review.
Yes, I know: There are unwritten rules pertaining to writers and professional critiques of our books. Writers aren't supposed to read our reviews. Newsflash: We do anyway. Writers are supposed to ignore bad reviews. It's harder to do than you might imagine. If writers are going to read our reviews and not ignore them, we should internalize the good ones and shrug off the bad ones. That might be even harder than ignoring them.
And as it happens, the review in question was the perfect storm of ugliness. First, it was about a book I loved and know was good. Sure, it had flaws; show me a book that doesn't. But it was a quality book and it certainly didn't deserve the treatment it received. Second, the review was in a high profile publication. Lots of people saw it. Third, I have good reason to believe the reviewer, with whom I had a bit of history, was acting out of personal animus. The criticism was savage and it was presented in such a way as to be especially humiliating. I won't say more than that.
Except this. The review hurt. It sent me into a professional tailspin that lasted months. That dark period is long since over, so I am not seeking sympathy. But at the time, it did some damage to my psyche and to my creative output. And there was no reason for it. They didn't like the book. Fine. Then ignore it. Don't give it the benefit of a positive spotlight.
They went further. Again, fine. That's their choice.
I will take a different tack. If I like a book I will publish a review saying so. If I don't, if for some reason the book doesn't excite me, or it rubs me the wrong way, I will set it aside without public comment and move on to the next.
Other reviewers are, of course, free to take a different approach. I will not judge them. But I want to write reviews for the fun of it, for the satisfaction of sharing with others my perceptions of an entertaining or moving or thrilling reading experience. I'm not interested in hurting anyone.
Keep writing!