My friend JD Blackrose has a new book coming out — Demon Kissed, a novel I was happy to blurb. Today she drops some writing wisdom on us. Read on!
---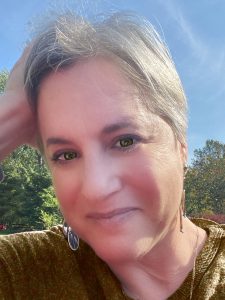 You won't get your best ideas sitting at your desk. You'll get them in the shower. Or, when you're driving your car, or taking a walk on a snowy day.
Unfortunately, the only things these three scenarios have in common is that you usually can't write anything down. I'm willing to guess that authors lose more ideas to a lack of pen and paper than to anything else.
In an article on the website for the meditation app, Headspace, author Christine Yu reports that her cousin once gave her a waterproof notepad and pencil so when she got her best idea in the shower, she had a place to write it down. (I didn't know such a thing existed, but it does. Google "Aquanotes.")
Or do what I do and carry your phone with you. Type a few quick words into the Notes section of your phone at a red light. If you are a sophisticate, leave yourself a voice memo. In the shower or while chopping veggies, when you can't just stop mid-suds or slice, yell to your partner, "Remind me about the pig with the swizzle stick," or ask Siri to take a memo. Just saying it out loud should be enough to get you through a quick wash or salad.
It's all good, and it is all valuable, because you'll need those notes of inspiration later. How many times have you been raring to go, ready to write, only to sit in front of your computer and find your ideas have dried up?
It's happened to all of us. It happened to me writing my new book, Demon Kissed, and the next two in The Summoner's Mark trilogy, coming from Bell Bridge Books.
Luckily, I had notes for inspiration, and I used them to get a handle on the main character and her voice. If I hadn't had those stolen thumb-typed crib sheets, I wouldn't have gotten a foothold on the story at all, or maybe I would have, but it would have been much later and my chance to pitch the books might have passed me by.
Writer A.A. Milne is often quoted as saying, "Don't underestimate the value of doing nothing." This is accurate, but the full quote is, "Don't underestimate the value of doing nothing, of just going along, listening to all the things you cannot hear, and not bothering."
Very Winnie-the-Pooh.
As writers, we talk a lot about "butt-in-chair" practice. Get a certain number of words each day! Set aside one hour every single day! Write a story start to finish.
It's all good advice, and yet, nonsense.
According to Yu's article, problem solving through insight involves the right temporal lobe of the brain, while problem solving via a more active, analytical approach involves the frontal lobe. We literally are using our minds differently, and being in the shower, or exercising, or being in woods puts us in a state of rest and relaxation, ready to receive inspiration.
In other words, we need both. I do a lot of yoga and the title of this piece comes from an online yoga instructor who said, "Down time is not wasted time." He's absolutely correct, and though he was talking about yoga, it applies to our writing practice too. Spinning our wheels in front of the computer makes us cranky and defeated. It is the opposite of what we are trying to achieve, and when we do create words under those conditions, they are often stilted.
While I believe in creating a writing habit, something I'm going to write a book about soon, I also believe that writing time is not necessarily all about fingers on keyboard or pen in hand. You must pay attention to the other part of your brain and give it the space it needs to work.
Malcolm Gladwell, in his book, Blink: The Power of Thinking Without Thinking, talks about the "Four Horsemen: defensiveness, stonewalling, criticism, and contempt." If this sounds like your inner voice, it is time to take a break and go for a stroll. Take notes or dictate into your phone, or dare to do nothing and not bother, like A.A. Milne. Come back to your writing later. The words might be there then.
*****
About JD Blackrose
JD Blackrose is the author of The Summoner's Mark series from Bell Bridge Books, and The Soul Wars, The Devil's Been Busy, and the Zombie Cosmetologist novellas from Falstaff Books, as well as numerous short stories, including "Welcome, Death" in the Jewish Book of Horror.
Demon Kissed is out February 28th.
Follow JD Blackrose on Twitter and Facebook
Visit the author's website. Read an excerpt of Demon Kissed.
Purchase:  Indiebound | B&N | Amazon | Kobo