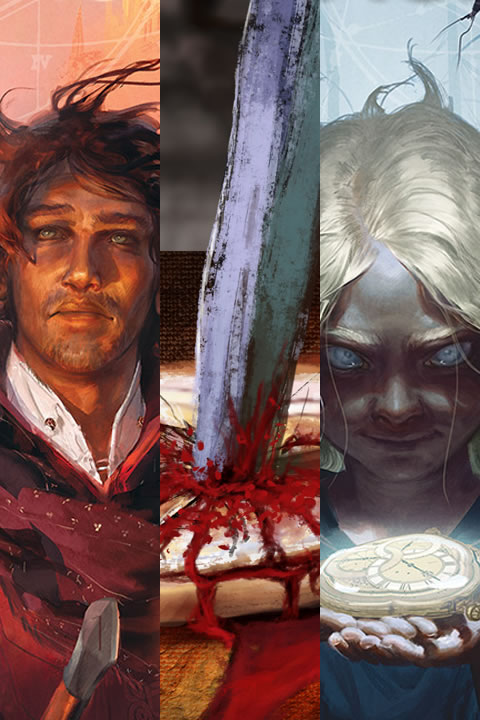 As you know at this point, we are in the midst of release week for Time's Assassin, the third book in my epic fantasy/time travel series, The Islevale Cycle. For today's writing tip, I am going to address a matter I've talked about before in conferences and workshops: defining success and balancing external disappointments with the satisfaction we ought to take in work well done.
To state the obvious, we want all of our books to succeed, to garner great reviews and sell like gangbusters. (And, with that in mind, you can order Time's Assassin here. You can also get books I and II in the series at a special price. Here's the link.)  With few exceptions, our most recent efforts tend to be the ones we think are the best. That has certainly been the case with my work. Some series are more successful than others, but generally speaking, I have been most proud of whatever book I have completed most recently. The Islevale books are no exception to this. I love, love, love these books. All of them. And I think that Time's Assassin is the finest concluding volume to a series I have ever written. I had creative goals for the book — things I wanted to accomplish with the narrative — and I feel that I achieved every one of them. I'm deeply proud of that.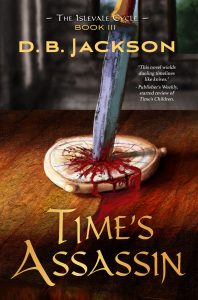 The truth is, I have felt that way about all three volumes of this trilogy. The Islevale books were incredibly difficult to write. I knew going in that writing time travel would be really hard — as one friend told me, "It'll make your brain explode." So much can go wrong. We have to examine every plot point from every possible angle to make certain it holds up to logic, and to the simple reality that time travel gives us endless opportunities for do-overs. Put another way, every event in a time travel story is negotiable. Each one can be altered or reversed by the very plot devices on which our stories depend.
I have never struggled with a set of books so much. Part of the problem was, maybe due to the time travel, I could not outline the books. I'm a planner. I outline all my novels. Except these. And, early on, it showed. My wonderful agent, Lucienne Diver, tore apart the first draft of the first book, which I liked very much. And every criticism she had of the book was valid. I wound up cutting 40,000 words from that initial iteration and then writing scenes totaling 60,000 words to make it work. It was a brutal slog. But when I finished that new draft of Time's Children, I knew I had written the best book of my career.
I hoped that Time's Demon, book II, would prove easier to write. It didn't. This time, I did most of the cutting and adding on my own — I didn't need anyone to point out most of the early flaws; I saw them for myself. Again, I couldn't outline the book, but by the time the second volume was done, I had fallen in love with it as well. And so it went with book III, Time's Assassin.
These books have also had a tangled history. The first book received terrific reviews — a starred review in Publisher's Weekly, a designation as the Best Fantasy Novel of 2018 from Reviews and Robots, an Audie nomination — and sold well, too. The second book also received great reviews — and one high-profile poor one that stung. More, its release coincided with a turnover in management at Angry Robot, the original publisher. The book got lost in the transition and tanked. Angry Robot's new editor apologized to me about this, but sales being what they were, she could not pick up the option on book three. Fortunately, John Hartness at Falstaff Books took the book on and made this week's release possible. I'm grateful to him, and to all the great folks at Falstaff.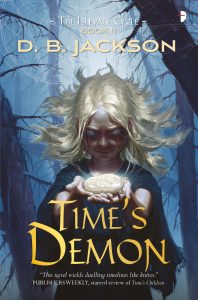 I frequently tell beginning writers that they need to self-define success, something which is really hard to do in this business. All too often we writers are forced by the nature of publishing to seek exterior affirmation for our work — reviews, sales, awards if we're fortunate enough to win them. These are the things the industry values and so, naturally, they are the things we care about as well. The problem with this is, the industry is cruel and capricious. We all know of good, even great, books that go unnoticed and unacknowledged. We all have seen mediocrity rewarded with terrific sales and undeserved attention. And we know that this is true in the world beyond publishing as well. Life is not always fair.
With the books of the Islevale Cycle, I have been left with no choice but to heed my own advice: I have to self-define my success. I can lament that these books deserved a better fate than that which the industry offered, or I can draw satisfaction from what they have meant to me, personally. Because they mean a lot: The series in total was the most ambitious project I've taken on, and the final products represent the finest work I have done. Writing these books forced me to stretch as an artist — every book and story I write from here on out will be better because of this series. So, yeah, I wish the second book had sold better. I wish I hadn't had to deal with the pain of being dropped by the first publisher. And I hope that the release of this third volume will build sales for all three books.
I said at the outset of this post that I LOVE the books. And it's true. I love the characters, the setting, the magic system, the prose, the emotion, the twists and turns. And I am hopeful that you will love them, too. Not just because I want to sell some books — though, yeah, I do — but because I take pride in the work, and I want others to see what I've done. I'm like a little kid showing his latest scribble to everyone who'll take time to look at it. And I'm okay with that. When we're kids, self-defining success comes easily. It's when we're older, and more aware of the pitfalls of creative careers, that we lose sight.
Thanks, and keep writing.