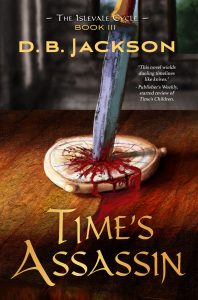 It is release week for Time's Assassin, the third book in my epic fantasy/time travel series, The Islevale Cycle, and so that will be the focus of my posts this week. And I'd like to kick off the week with some musings about new releases and the excitement and anxiety that comes with them.
Release days are odd. Even today, with the marketplace changed and production times for books shortened by digital advances and the movement toward smaller presses and self-publishing, the actual day a book drops seems to be removed from time — an irony given that, in this instance, the release is a time travel story. Producing a book takes months, and while the rest of the world sees Time's Assassin as my newest work, I know it's not. Since completing the submitted draft of this book, I have written short stories, a non-fiction piece, several novellas, and a full-length novel. I'm currently reading and worldbuilding in preparation for another multi-volume project. In other words, my mind has moved on from Islevale. Talking and writing about this book feels like a journey to a different time.
To be clear, it's not a journey I mind making. I love the Islevale books; I believe they're the best novels I've published. They're just not the focus of my professional life the way they were when I was neck-deep in writing them. And that's a bit of a problem. The fact is, the success of Time's Assassin and the two volumes that came before it will have a huge impact on everything I do after. Sadly, that's how publishing works. We are only as successful commercially — and, to a lesser degree, critically — as our most recent work. This is why even perennial bestsellers still worry about each new release. They sweat the reviews and pore over their sales numbers.
We want to take satisfaction in the publication itself (more on this in Wednesday's post) and to some degree we do. Certainly we should. Writing a book is no small feat. Completing a series is an accomplishment that deserves a moment's reflection. I still get a thrill out of seeing the jacket art for a new book, or holding the printed novel in my hands for the first time. I have a bookcase next to my desk that holds a copy of every novel I've published, every anthology in which I've placed a short story or which I've edited. Two shelves are full; I'm about to start filling a third. I'm proud of that.
That said, I'm already invested in other projects. I want this release to go well, but my creative energy is focused elsewhere. I don't mean for that to sound jaded. This is, I believe, as it should be. It's not just the allure of the New Shiny — though that is real, and worth exploring in a future Writing-Tip Wednesday post. Looking beyond the current release is, to my mind, a natural expression of all that we love about our profession. Yes, completing a book feels great. And yes, starting a new novel can be daunting.
For authors, though, as for all artists working in all forms, creation is a constant. We work on the next project because we have ideas that demand attention, and because we believe with all our hearts that as much as we might love the thing we've just finished and are currently promoting, we know that we can do even better.
So, we worry about the sales and the critics. We do what we can to promote the new release.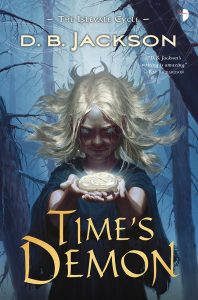 …And allow me take a moment to urge you get a copy of Time's Assassin. (You can order it here.) It is, I believe, a wonderful conclusion to a series I adore. If you haven't yet read Time's Children and Time's Demon, now is the time. The three books are out. There will be no more in this world. And they are as good as any work I've ever done. And now, back to our regularly scheduled blog post…
But I'll be perfectly honest with you: Even if the reviews for Time's Assassin suck, and even if we don't sell a single copy (neither of which I anticipate), I'm still going to work on the new projects. I am a writer. This is what I do.
Creativity is its own reward. At least it should be. Sometimes things get a bit more complicated than that, a phenomenon I'll address on Wednesday.
Today, though, I intend to enjoy having my mind in two projects at once, two worlds at once. I am deeply proud of my new release. I hope you'll buy it and I hope you enjoy it. AND I am incredibly excited about my new projects. I can't wait for you to see them.
Enjoy your week.