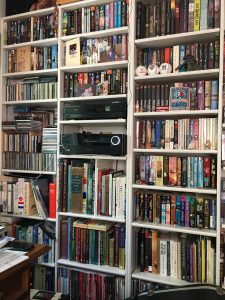 Last week's Writing-Tip Wednesday post was about the computer apps I use most when researching, outlining, and writing books and stories. As promised, this week I want to look at what are probably the most important writing tools I have: my reference books.
I use the internet a great deal when I'm writing. I look up a ton of stuff every day. But to my mind, there is no replacement for having the physical books, for being able to thumb through an index, or flip through pages on our way to the topic we're after only to discover some tidbit of information we hadn't known we wanted until the instant we found it.
So with that in mind, here are the books I use most often and recommend most enthusiastically.
Let's start with the basics. Every writer should have a good dictionary and thesaurus at hand all the time. My dictionary of choice is Merriam-Webster's Collegiate Dictionary, Eleventh Edition. My main reason for using it, beyond the fact that it is comprehensive and widely accepted, is that for every entry it gives the date when the word first entered the popular lexicon. That is invaluable for authors who write in historical periods or fantasy analogues to historical eras, and who wish to eliminate anachronistic words and phrases from their books.
My thesaurus of choice is Roget's International Thesaurus (6th ed.). This is the really big one – over 1200 pages. It is organized conceptually, by category of word, with an alphabetical index. The advantage of this is that if we look up a word like "total" we get a lengthy listing of possible meanings. Do we want a synonym for "total" that means "amount" (noun) or "compute" (verb) or "whole" (adjective)?
The other general writing reference I use is The Chicago Manual of Style, which is the industry standard for all matters relating to grammar, punctuation, and usage. I have a slightly older edition. I believe the most current is the 18th.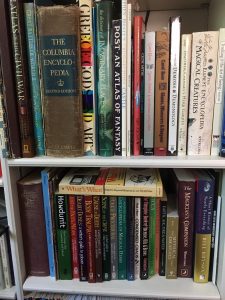 Another word oriented reference I have and love is English Through the Ages, which further refines the historical dating of words. It has an extensive index in the back that distinguishes among different meanings of words. Take the word "spleen": The body part was named before the 1300s, but "spleen" was not used as a synonym for "temper" until the 1600s. I love tidbits like that.
I write fantasy, and so I am a big fan of the Scott Cunningham books on magic. Titles on my shelves include: The Complete Books of Incense, Oils and Brews; Cunningham's Encyclopedia of Magical Herbs; Cunningham's Encyclopedia of Crystal, Gem, and Metal Magic; Wicca: A Guide for the Solitary Practitioner; Earth Power: Techniques of Natural Magic; and Earth, Air, Fire, and Water: More Techniques of Natural Magic. I will admit that Cunningham offers his books as guides for people who actually believe in the various sorts of supernatural techniques and objects he describes. I don't. But I find the books indispensable as reference guides.
I also write mysteries into my stories and books, and have therefore relied heavily on the Writer's Digest "Howdunit" series of books on crime and policing. These books are designed specifically for writers, and so they offer incredibly valuable information in a format that is easily digestible. They are made to be reference books. Titles in my collection include the following: Police Procedural (investigative procedures); Scene of the Crime (crime scene techniques); Cause of Death (forensics); Body Trauma (wounds and injuries); Deadly Doses (on poisons); Just the Facts, Ma'am (general investigative techniques); and Howdunit: How Crimes Are Committed and Solved. These are great books. Highly recommended.
I have several books on magical creatures and demons, all of them in encyclopedia format. Two of them are put out by W.W. Norton and written/edited by Carol Rose: Spirits, Fairies, Leprechauns, and Goblins and Giants, Monsters, and Dragons. I also have Demons and Demonology, by Rosemary Ellen Guiley (Checkmark Books); and The Element Encyclopedia of Magical Creatures, by John and Caitlin Matthews (Sterling Publishing).
I write about castles with some frequency and do my best to get all my architectural terminology right. I actually use two kids books on castles as my primary references: Castle, by David Macauley, and Castle: Cross Sections, by Stephen Biesty. I have supplemented these two books with small books that I have picked up at just about every castle I have ever visited while in Wales, Ireland, England, etc. These are basically self-guided tour brochures that give terminology and history and offer illustrations. Almost any castle gift shop will have one.
Another book I love is called What's What: A Visual Glossary of Everyday Objects – From Paper Clips to Passenger Ships (edited by Reginald Bragonier, Jr. and David Fisher, Ballantine Books). This book gives you the name of every part of hundreds upon hundreds of objects, vehicles, architectural features, and more. It is out of print (as are many of the titles I have listed in this post) but can be found on used book sites, Ebay, etc.
I could go on, of course. I have dozens of books about the Revolutionary Era, all sorts of field guides, a book about animal tracking, books about baseball and history and weapons, about ancient Scotland and Ireland and Peru and Greece, about Civil War and World War II battles. I could go on and on. There is no rule for collecting reference books except to keep your eyes open. The bargain rack at your local Barnes and Noble can be a great place to collect helpful titles. So can flea markets and library sales. As I say, most of the titles I've shared with you here are out of print. But with a bit of legwork and digging you can find them and begin your own collection.
Best of luck, and keep writing!