So you're trapped in your home with too much time and too little to do. The world around you has gone to hell, and you're fed up. Sound familiar?
Yeah, thought so. So why not take the opportunity to create your own world? You're a writer. You have that power.
Not long ago, I wrote about creating magic systems, and that advice could come in handy in this process. But there is lots, lots more to worldbuilding than just magic. That's the beauty of it. A created world can be as complex and rich and deep as you want it to be.
I am not going to try to squeeze every element of worldbuilding into this post. I could write ten essays on the subject and not exhaust it, and I promise to return to world building topics in future posts. For today, let's start with this: I LOVE creating maps. That might sound weird, but it's true. I'm not particularly skilled as a visual artist – which is to say that I have NO skill at all in that regard. But my maps are pretty darn good, if I do say so myself.
I start with graph paper when I can. (I'm sure you can get some through an online seller if you need it. Unlike other sorts of paper, it doesn't seem to be a hoard-worthy product…) Why graph paper? Because it allows you to keep track of your scale as you create land features, rivers, oceans, cities, etc.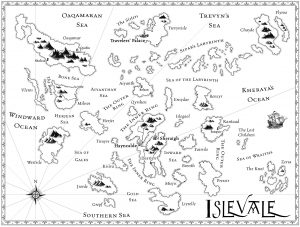 And then I just let my imagination run wild. At first I let my hand wander over the page, creating the broad outlines of my world. Sometimes I have to start over a couple of times before I come up with a design I like. But generally, I find that the less I impose pre-conceived notions on my world, the more successful my initial efforts. I draw land masses, taking care to make my shorelines realistically intricate. (Take a look at a map of the real world. Even seemingly "smooth" coastlines are actually filled with inlets, coves, islands, etc.) I put in rivers and lakes. I locate my mountain ranges, deserts, wetlands, etc.
And then comes the fun part. I start naming stuff.
Yeah, okay, it takes a certain level of geek to find naming stuff on a map fun. But bear with me. You see, place names and land feature names are stories waiting to happen. Sure, sometimes we call places by names that are stupidly obvious. The Rocky Mountains, for instance. Yeah, very original, not to mention informative. Distinguishes them from the Cheesy Mountains, I guess… On the other hand, each named peak in the Rockies DOES tell a story. So do place names that include a person's name or that use geographic features to anthropomorphize.
Maybe your world has a hero whose exploits are so renowned that places are simply named for her, randomly, the way seemingly every state in the Union has a "Washington County" or a city named "Lincoln." We need to learn the story of your hero.
Maybe your mountains are named for one or more of your mythical beings. What is (are) their story (stories)? Maybe you have a river that is named for a warrior who perished on its banks, or a range of hills that are said to be haunted.
My point is not that EVERY name you give has to convey a story. Sometimes a Rocky Mountain is simply a mountain that's rocky. Sometimes a Whitewater Creek is simply a creek that has lots of rapids. But a fraction of your named features should have names that tell much, much more about your world than just what it looks like. A few of your names should hint at stories, at history or lore. My world maps tend to have three or four or even five separate nations, and each nation (handled in separate maps) tends to have maybe thirty names (cities, mountains, deserts, forests, lakes, rivers, bays, harbors, oceans, etc.). Even if only one out of five has a name worthy of a story… Well, you can do the math. That's a good number of stories.
And then (and this is REALLY the fun part) you need to write those stories. They will give you some of your history for your world. Maybe they will give you some of your religion, or even your economy. They may hint at social customs, at holy days, at rites of passage. Certainly they will help you refine the authorial voice for writing in your world. They may even give you material to sell to short story markets. The first short story I ever published – "Night of Two Moons," published in  back in 2002 – was a historical tale set in the Forelands. I have since sold short stories set in the Thieftaker world, the Fearsson world, and Islevale. And yes, as I remember it, that Forelands story grew out of something I first named on the original map.
Worldbuilding is tons of fun. Yes, it's work, but it is well worth the effort. I have heard writers say, "Oh, I don't do a lot of worldbuilding. I focus on character instead." And each time I hear that, I think it's the most ridiculous thing ever said. Writing is not a zero sum game. My worldbuilding doesn't detract from my character work, thank you very much. But it does enrich my storytelling by making my settings more compelling and more realistic.
So while our real world is going to hell in a handbasket (another really, really odd phrase – I've started a list…), you can escape for a while by creating your own world. You'll enjoy it, and, more important, you'll get background for your world and material for short fiction.
Keep writing!