This is a big day in my world. Today saw the official pub date announcement and cover art reveal for TIME'S CHILDREN, book I in The Islevale Cycle, my new epic fantasy/time travel series. The series is being published by Angry Robot Books. The first volume will be out on October 2 and will be available as a trade paperback and also in all electronic formats. You can preorder here.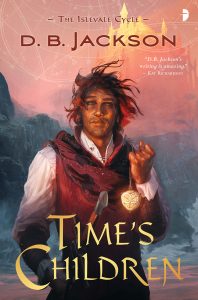 Interested in learning more? Well here is the link to the official announcement at Unbound Worlds, complete with the artwork. But I'm also going to show you the art here, because I love, love, LOVE it.
As a bonus, you also get to see the jacket art for TIME'S DEMON, the second book in the series, which will be out in May 2019. Follow the link.
I love these books. I think they represent my finest work to date. I hope you enjoy them, too. As more news about the releases becomes available, I'll pass it along. In the meantime, you can read excerpts from the books in my newsletter. There is a sign-up link in the menu along the side of this page. Not only am I providing book teasers, I'm also running monthly giveaways. You can win a free, signed copy of one of my books just by subscribing. Pretty cool, eh? So what are you waiting for? Follow the link! Check out the art! Subscribe to the newsletter! And please enjoy!